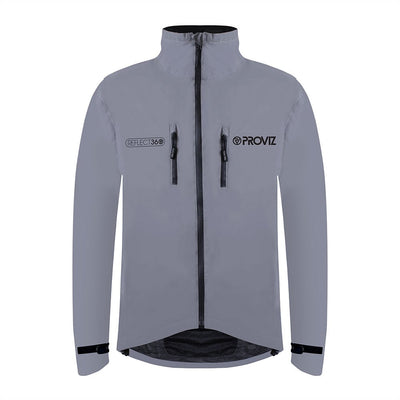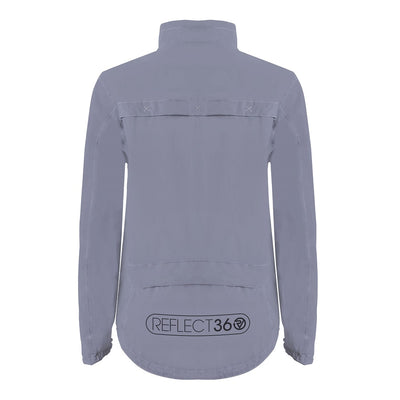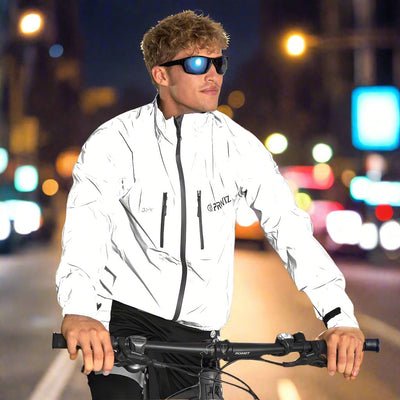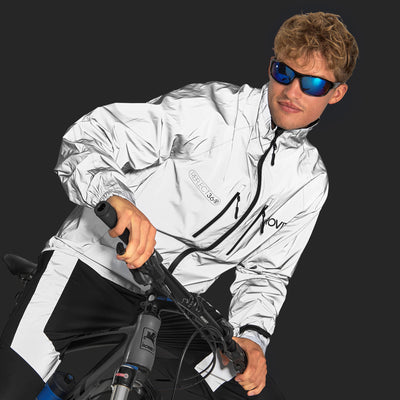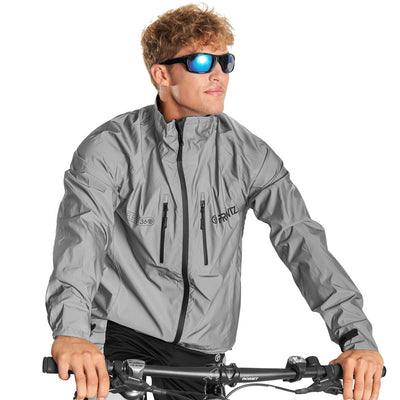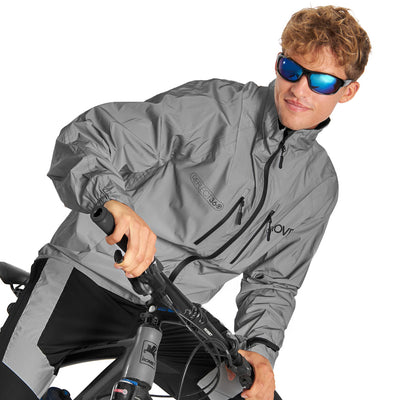 REFLECT360
Men's Fully Reflective Cycling Jacket
Free Delivery on all orders over $75.00

Extra 10% off - Use Code: EXTRA10
Shop All Flash Sale
Highest Visibility Levels: 100% reflective material (CE EN 20471)
Tailored Fit for Comfort
Waterproof (5,000mm, Seam-sealed)
Lightweight at 500g
Fleece-Lined Collar for Warmth
Raglan Sleeves for Mobility
Inside Chest & Back Pockets
Low Profile Rear Spray Guard
Mesh Lining for Comfort
Repreve inner lining made from Recycled Waterbottles
Built-in Air Vents (Front/Sides/Back)
Adjustable Waistband & Cuffs
Weatherproof Zippers with Garage
Machine Washable
User-Friendly Zip Pulls
We offer free delivery within the UK on all orders over £75.
Find out more on our delivery page. Worldwide shipping is also available.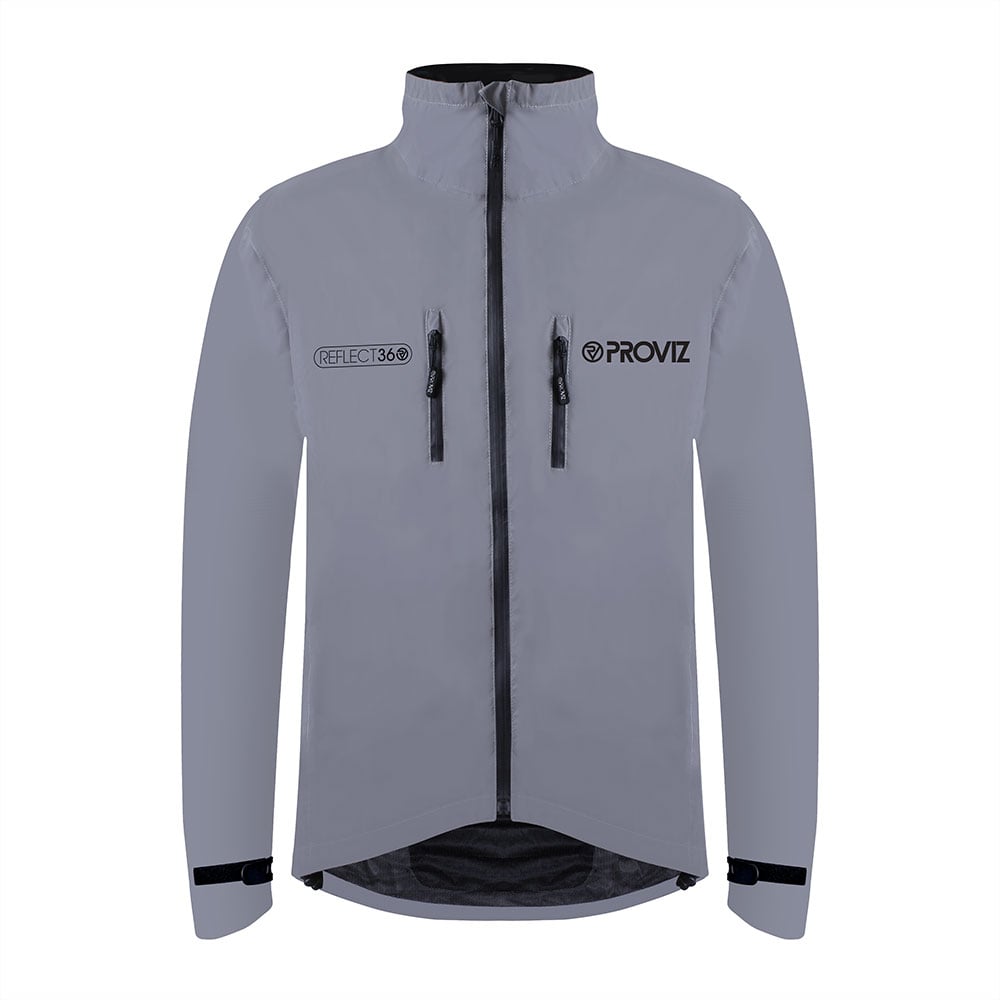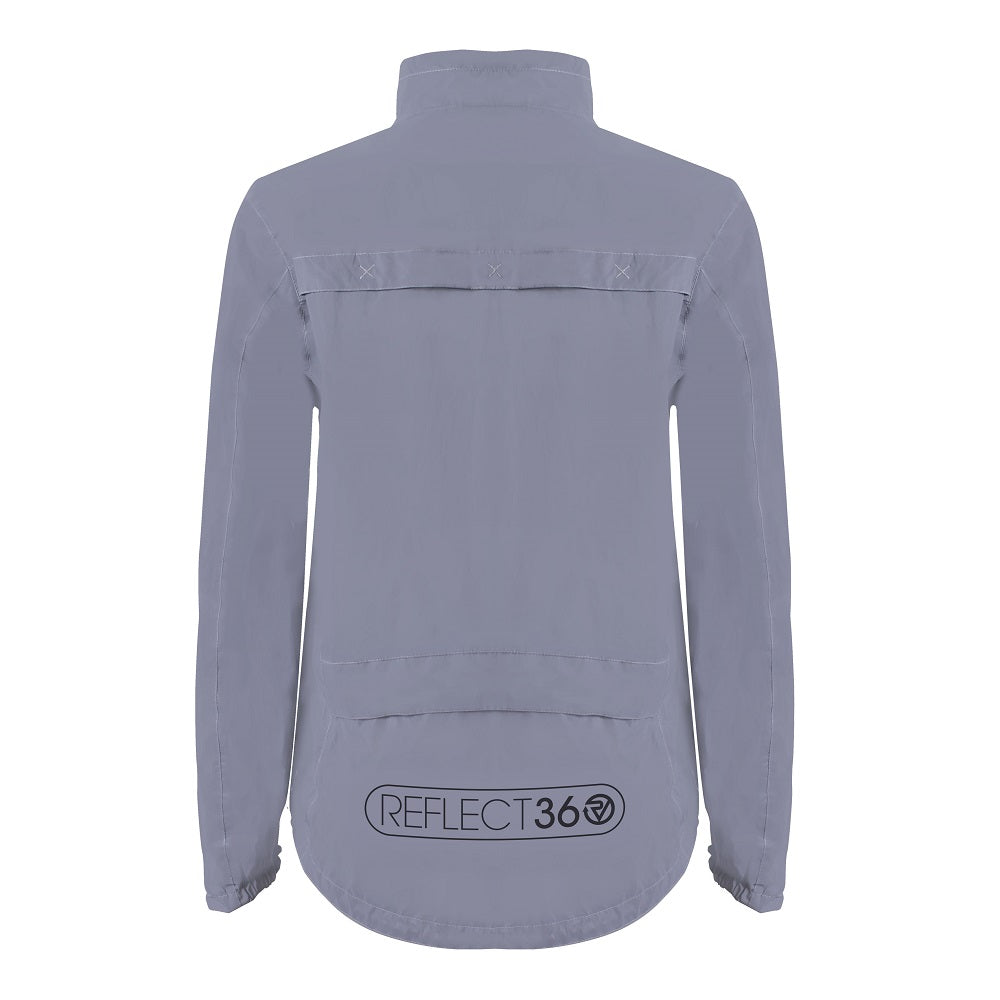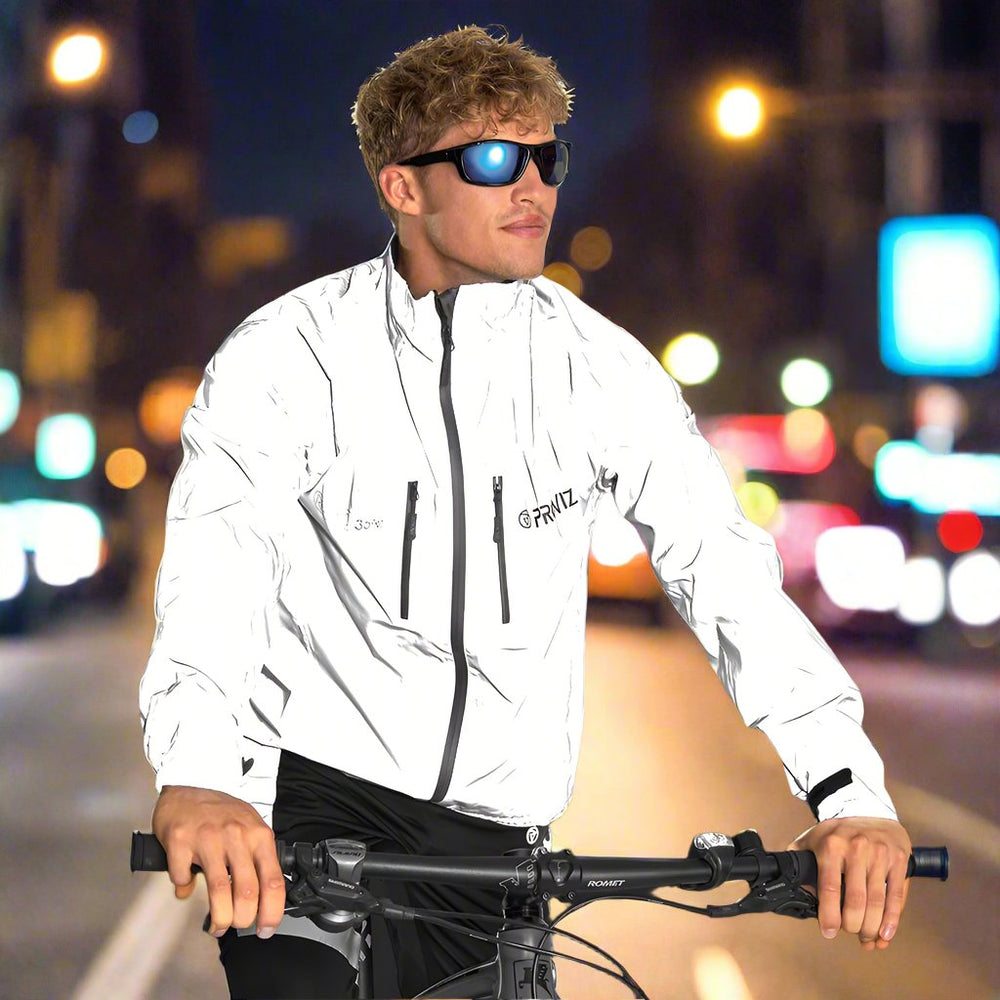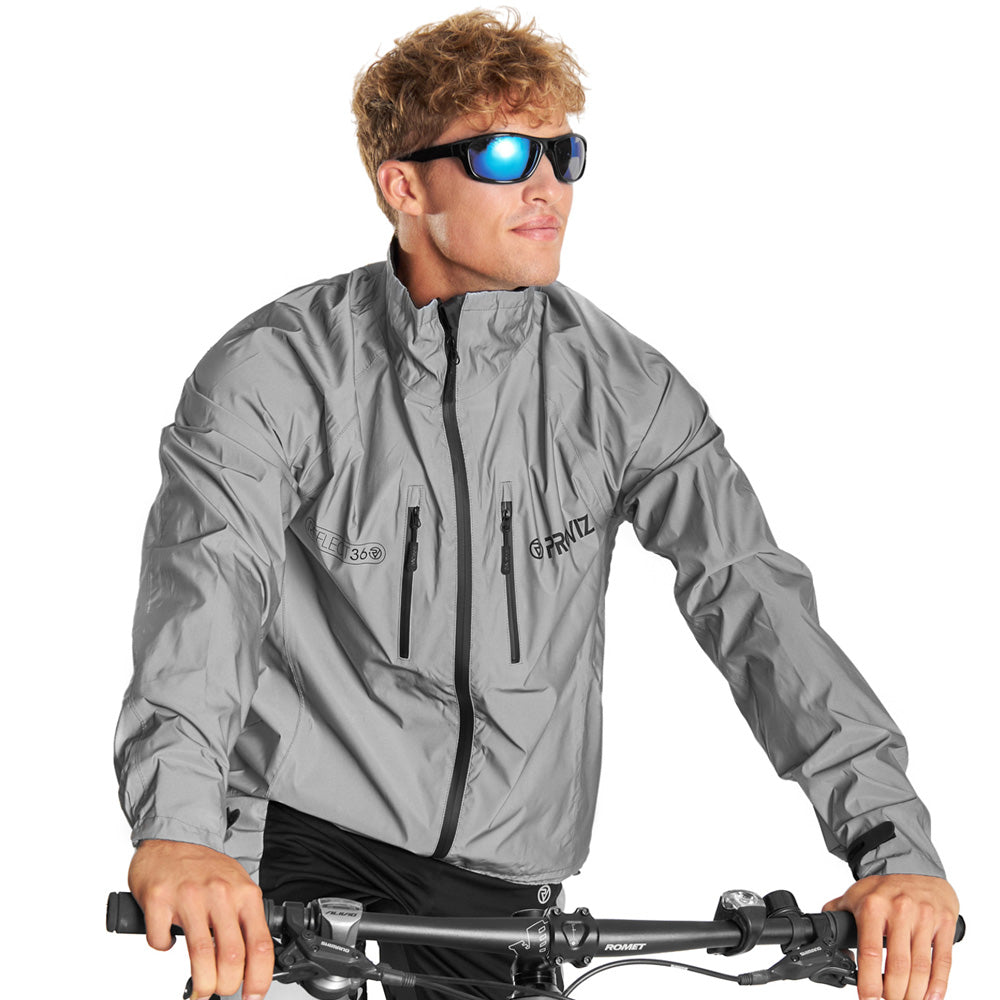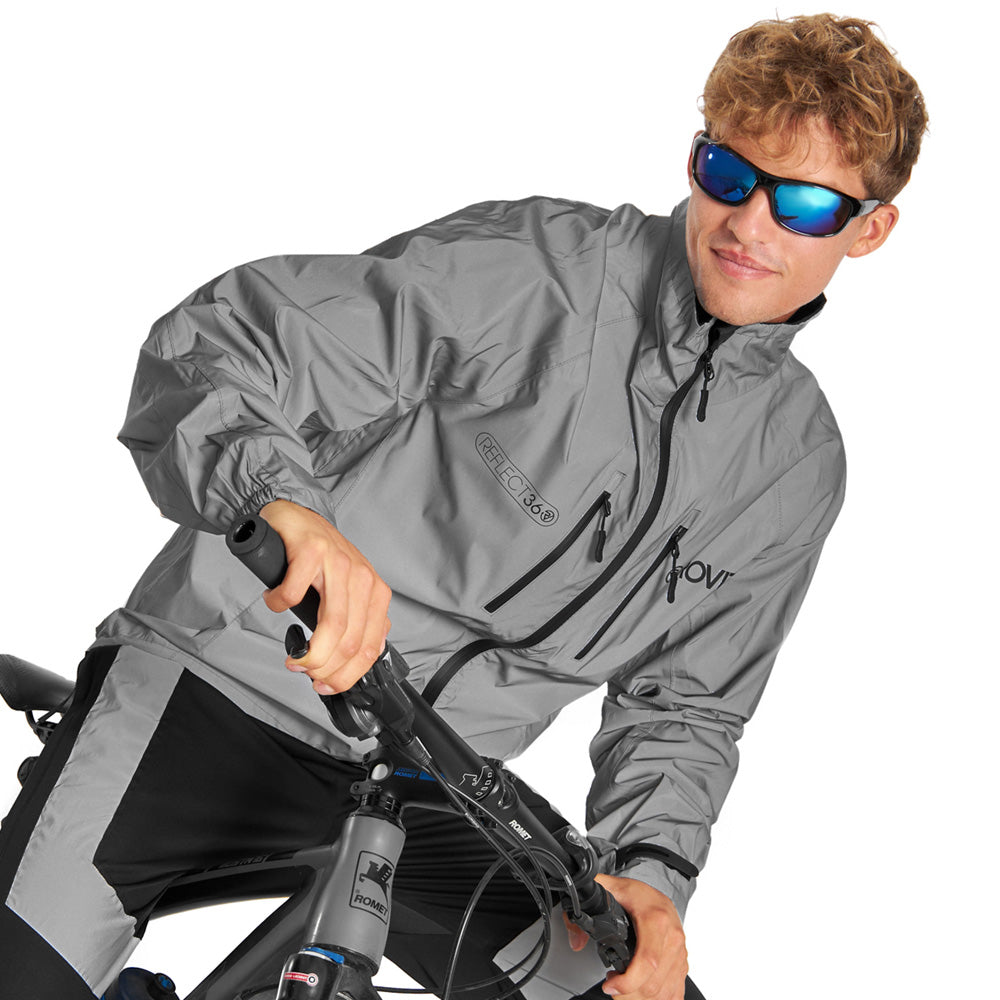 FEATURED IN
Offers incredible reflectivity.
Never felt more visible.
The material shimmers as you look at it like the sail of a satellite and appears to generate new light on the road turning cyclists or runners into moving beacons
Featured in Best Commuter Gear
Lives up to its name.
Great use of technology
Light-sabre like glow
Amazing presence
Astonishingly Reflective
Beautifully all over reflective
Introducing the REFLECT360 Cycling Jacket – a revolutionary design that takes cycling safety and innovation to new heights. Crafted with a 100% reflective outer-shell, this jacket redefines visibility for cyclists. It gained recognition at the Cycle Revolution Exhibition at London Design Museum, solidifying its groundbreaking status.
Unmatched Reflective Technology: The REFLECT360 Jacket's outer-shell is a technological marvel. During the day, it appears as a modest grey fabric. However, when exposed to external light sources like vehicle headlights at night, it exhibits a remarkable 'astonishing reflectivity,' as noted by Cycling Active Magazine. This unique feature enhances your visibility on the road, ensuring other road users can detect your presence and respond promptly.
Temperature Control: Engineered for comfort, the jacket incorporates multiple vents strategically positioned at the front, shoulder/back, and underarm. Open the front zipper vents for a refreshing 'through-flow' of air – it enters through the front and exits via the shoulder/back vents, regulating your body temperature. When colder weather arrives, these vents can be closed or utilized as extra pockets for storage. This adaptable design ensures year-round usability.
Practical Storage: The REFLECT360 Jacket isn't just about safety; it's also designed with practicality in mind. An inside chest pocket and a spacious lower back pocket provide convenient storage space for additional layers or essential items like maps, making your cycling experience even more convenient.
Certified Quality: The fabric used in the REFLECT360 range is certified with CE EN 20471, meeting stringent quality standards. This certification underscores the high quality and reliability of the jacket's reflective material.
Why we love our
REFLECT360 Cycling Jacket
The Material
Utilising millions of tiny, highly reflective glass beads, the innovative material used for the REFLECT360 Cycling Jacket is exceptionally waterproof (5,000mm) and has taped inner seams to prevent water getting in at sewing lines.
The Lining
The REFLECT360 Cycling Jacket has a soft cotton mesh lining which acts as a climate control mechanism. The mesh increases airflow by maintaining separation between your skin/shirt and the outer layer of the jacket. This allows your body to maintain a more consistent comfort level, without the need to constantly add or remove layers.
Pockets
The REFLECT360 Cycling Jacket incorporates two outer chest pockets, one inner chest pocket and one large back pocket, so you will not struggle to find somewhere to put the items you need when you're out cycling. The outer chest pockets also double as additional vents to help cool you down on warm days.
Cuff
This innovative jacket features hard wearing cuffs with hook and loop attachments. These can be easily adjusted by the wearer to suit their size and specific requirements. Keep them loose during the spring/summer to facilitate airflow, or tighten them up to keep out cold, wintry weather.
Adjustable Waist
As with all Proviz kit, our focus is to keep you safe on the road, but we never feel that this should come at the expense of performance or comfort. Use the elastic pull cord and plastic fasterner to fit the REFLECT360 Cycling Jacket to your body shape.
Under Arm Ventilation
Perfect for warmer days and occasions where you are sure to work up a sweat, the REFLECT360 Outdoor Jacket features 30cm zips under each arm which can be opened to increase air flow and cool you down.
Shoulder/back ventilation
When you get hot across the shoulders/upper back, the ventilation flap in the back of our REFLECT360 Cycling Jacket helps to combat any discomfort. It lets hot air out but won't let any inclement weather in.
Waterproof Zip with pull and Garage
Not just a neater way to fasten your REFLECT360 Cycling Jacket, the simple yet effective zip-garage at the top of the full length storm zip ensures that you do not experience any nasty neck chafing when your jacket is zipped up on colder days. All the zips on the jacket are waterproof too and come with handy zip pulls, so not a drop of rain will get in.
Micro-Fleece Collar
Staying safe in the great outdoors on dull days and long, dark winter evenings should not have to mean a compromise on comfort. Our REFLECT360 Cycling Jacket features a micro-fleece lined collar for extra warmth and comfort during colder months.
tag us on instagram #MYPROVIZ
Other customers also like