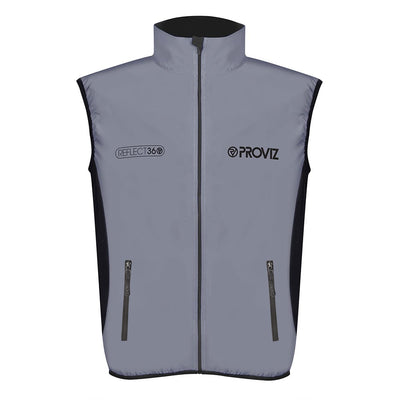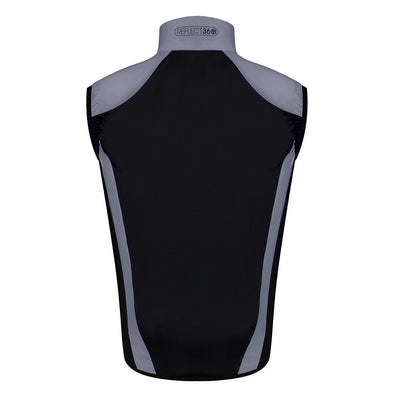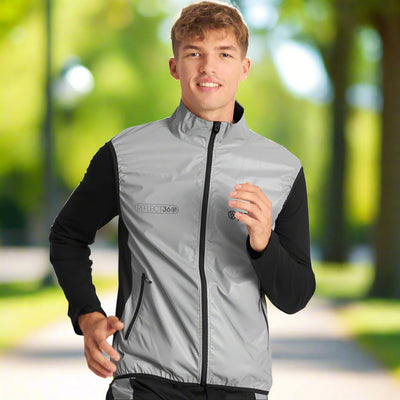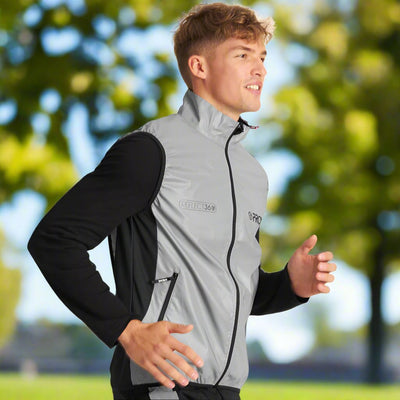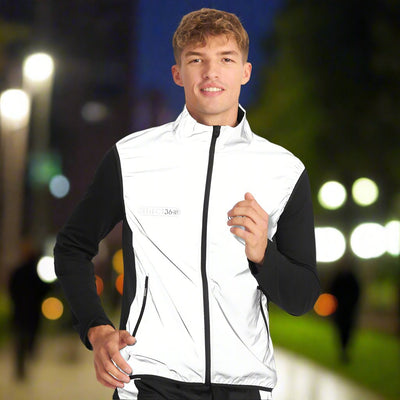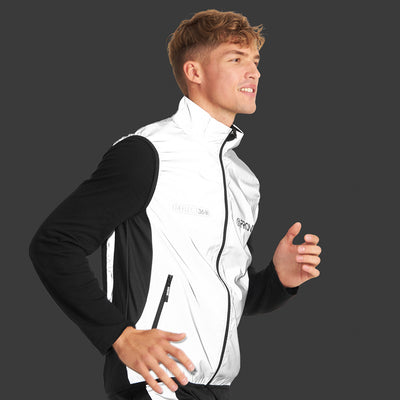 REFLECT360
Men's Fully Reflective Running Vest
Free Delivery on all orders over $75.00
100% reflective outer-shell
Rear/Side mesh for enhanced breathability
Two side pockets
Lightweight – 100g (size variable)
Windproof
Zip guard and lock zip
Elastic waist
We offer free delivery within the UK on all orders over £75.
Find out more on our delivery page. Worldwide shipping is also available.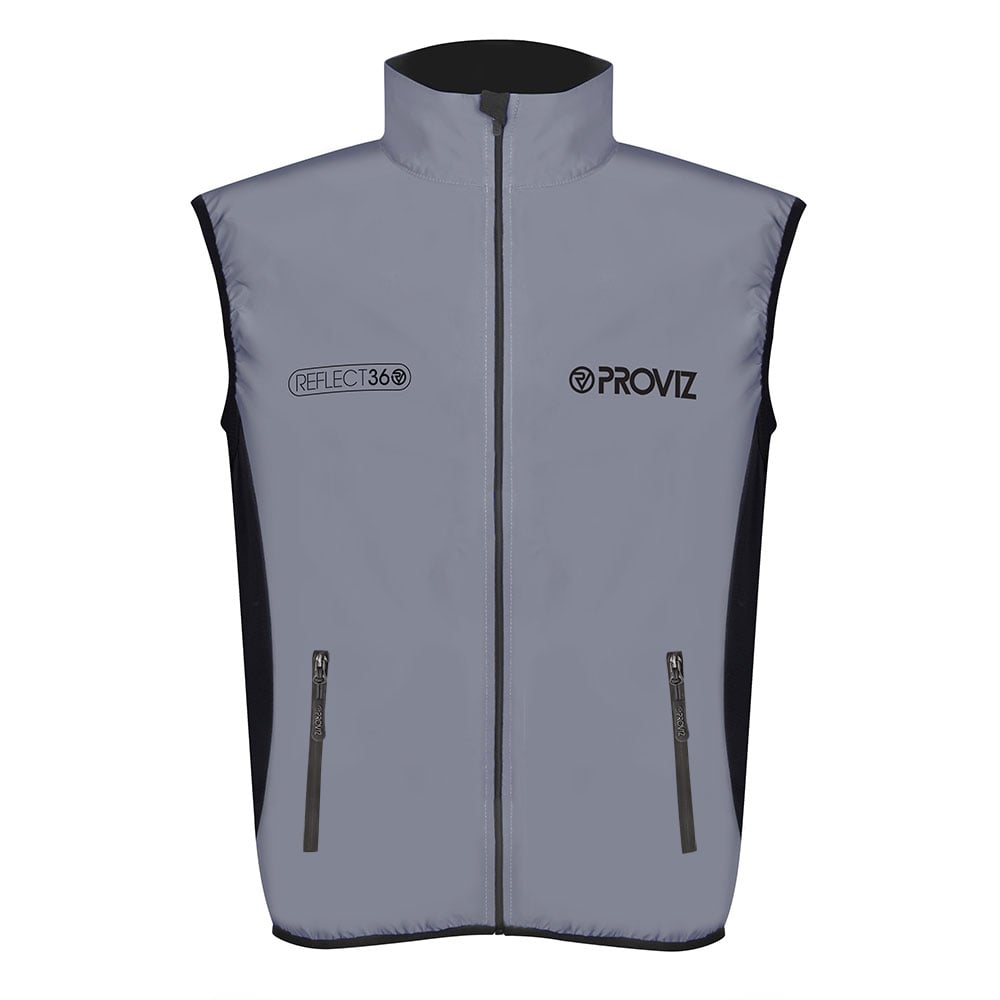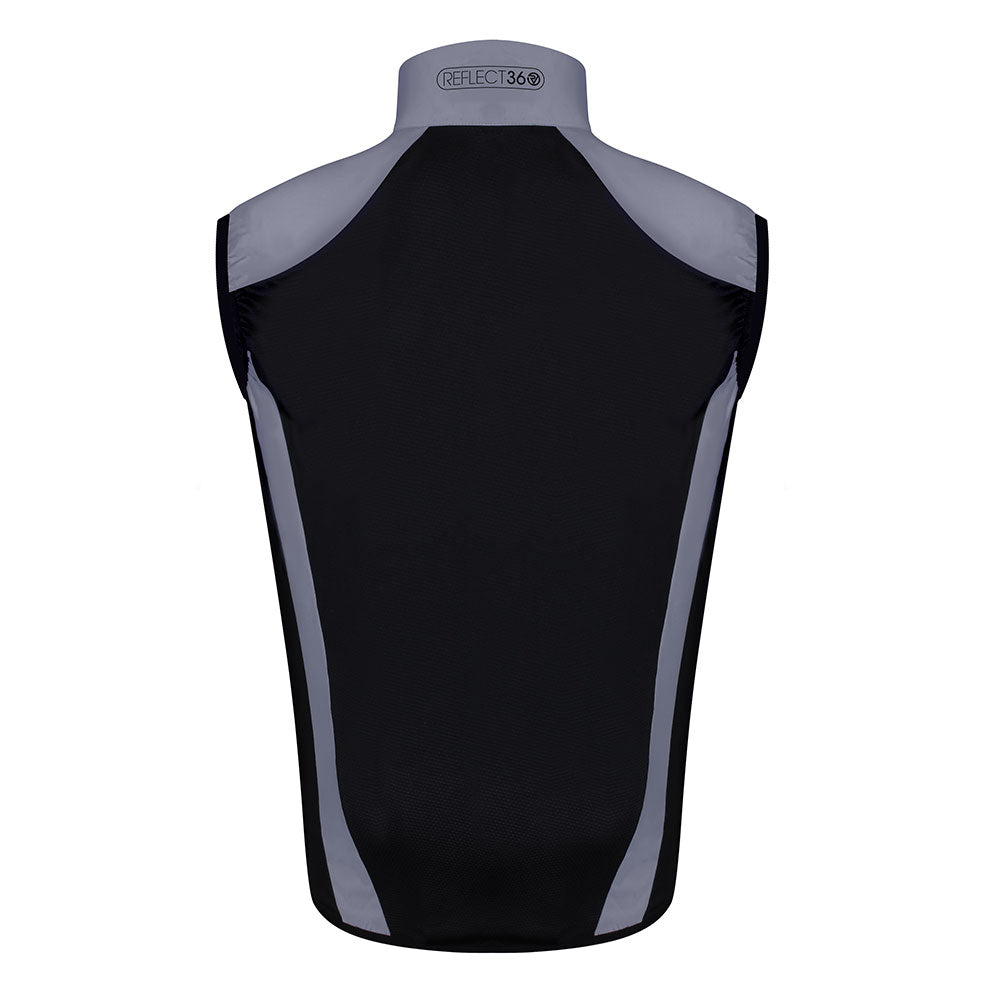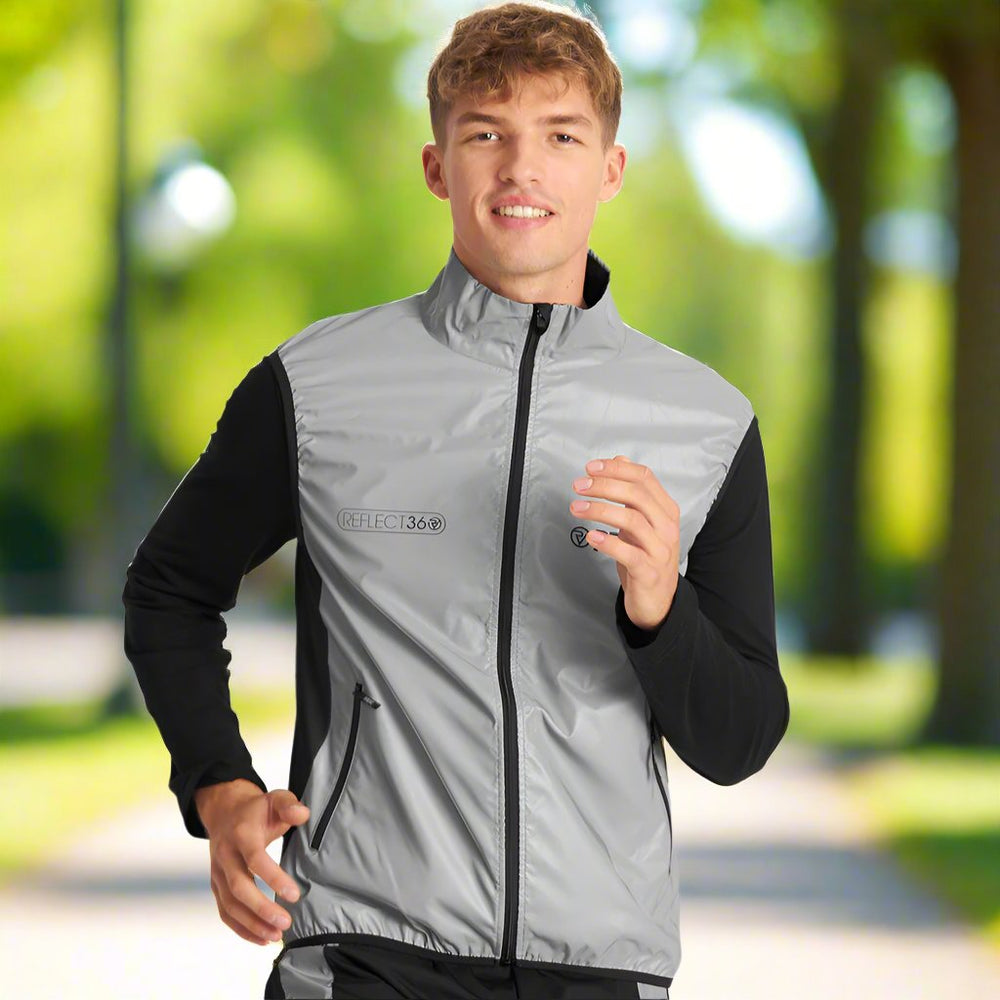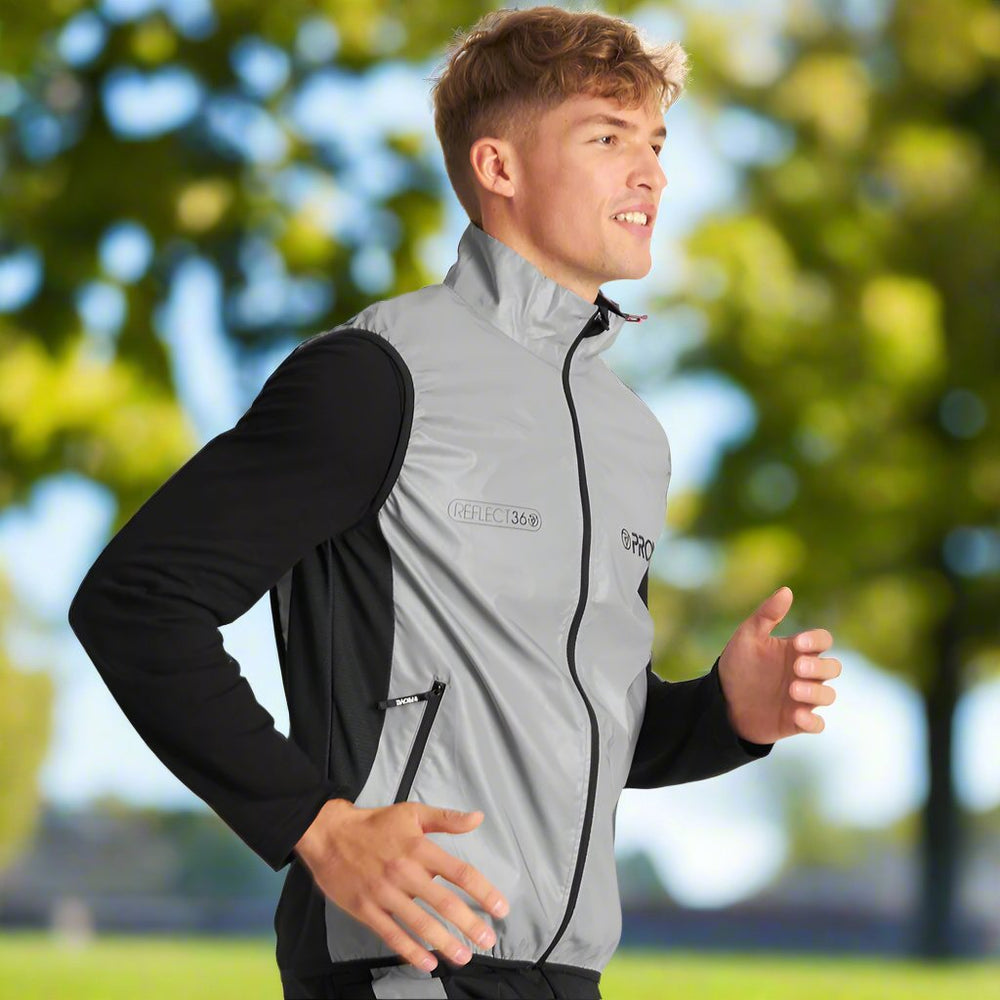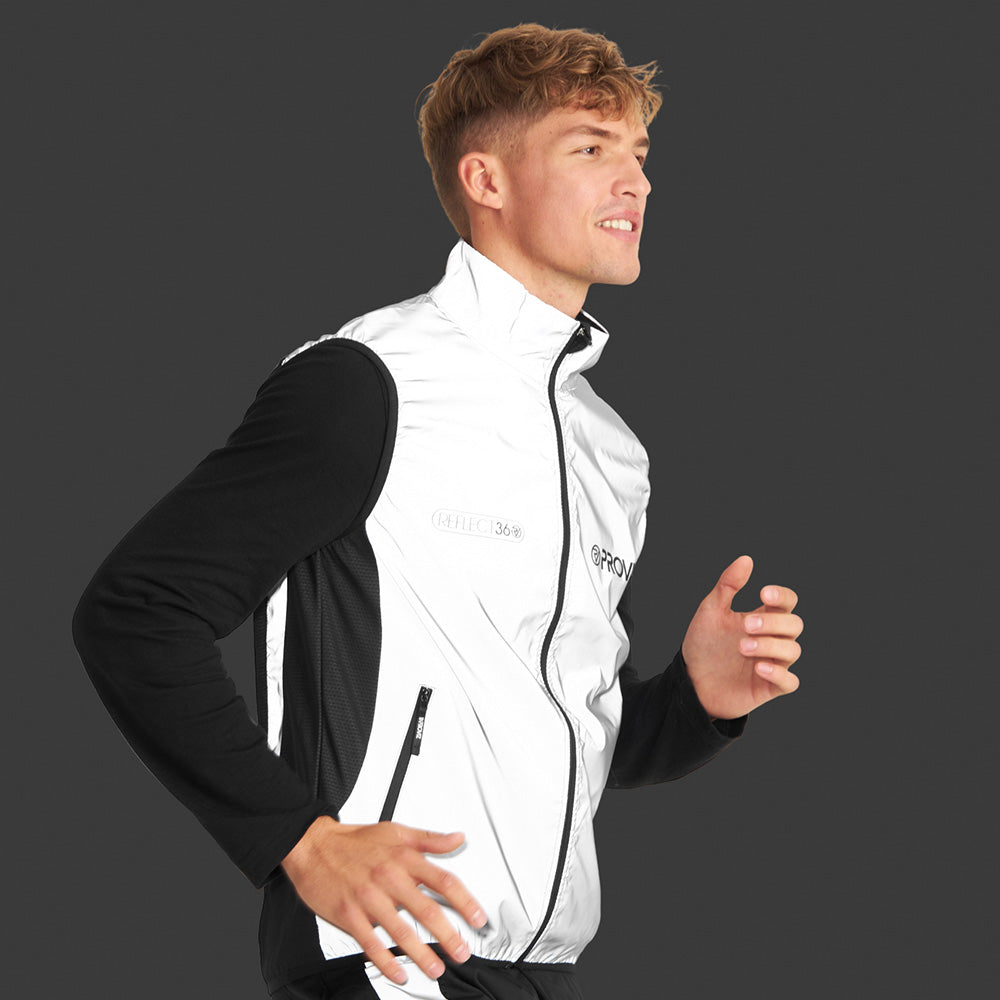 FEATURED IN
Featured in 'The best reflective clothing for runners.'
'This amazing gear by Proviz provides 360 degrees of reflectivity as you train.'
Women's Running Magazine's BEST IN TEST: 'Great lightweight gilet with a fabulous tailored fit that felt wonderful whilst running.'
The Proviz REFLECT360 running vest has been designed to give you a super lightweight running vest that looks great and helps you stand out at night. Like the REFLECT360 running jacket, our designers have focused on the weight of the vest to give you optimum comfort. It weighs in at only 100g (size variable) and feels so light that you won't even feel like you are wearing an extra layer! The REFLECT360 running vest has a super comfortable soft-mesh back and under arms that allow all the heat that you build up to escape. About the fabric: The reflective material gives you a 360 degree reflective surface so that any light from vehicles will reflect back to the driver and help you stand out in advance to give 'astonishing reflectivity'. The material is CE EN 20471 certified.
Why we love our
REFLECT360 Running Gilet
The Material
Utilising millions of tiny, highly reflective glass beads, the innovative material used for the REFLECT360 Running Gilet reflects light back from vehicle headlights, helping you to be seen more clearly on the road at night.
Fitted Shoulder
Excess material flapping about in the wind can be really annoying when out on a run! The shoulders of the REFLECT360 Running Gilet are fitted to avoid this annoyance and to ensure that, on cooler days, cold air is kept out and body heat retained.
The Lining
The REFLECT360 Running Gilet has a soft cotton mesh lining on the back and sides which acts as a climate control mechanism, increasing airflow by maintaining separation between your skin/shirt and the outer layer of the jacket.
Lock zip with garage
The lock feature on the zip ensures that the zip does not slide down when you are out on your run and the zip garage guards against any uncomfortable neck chafing when the gilet is fully zipped up.
Side Pockets
Keep your essentials zipped up securely when out on your run. We've added handy zip pulls so you don't have to remove your gloves on those cold days!
tag us on instagram #MYPROVIZ
Other customers also like