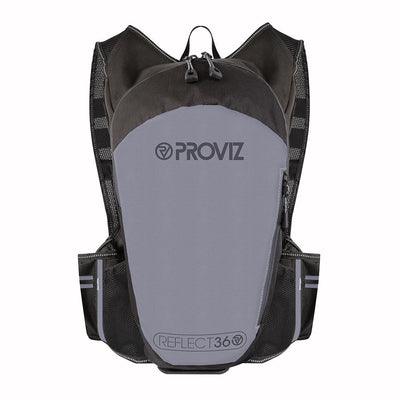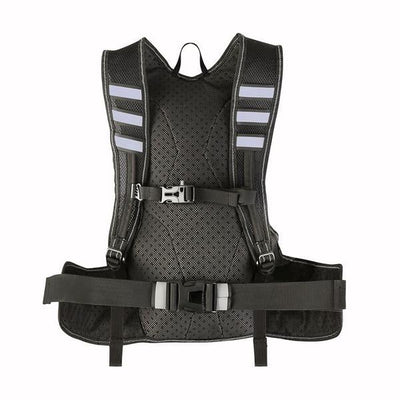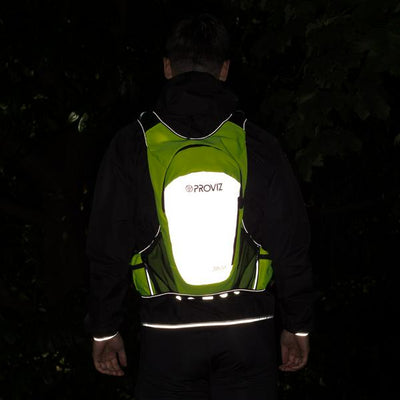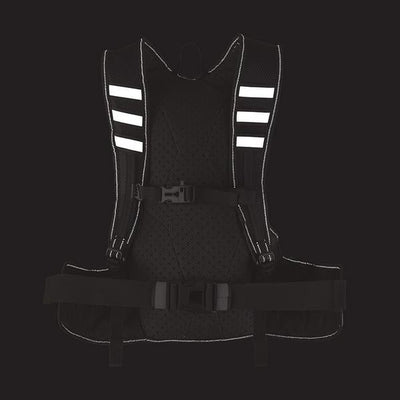 REFLECT360
Reflective Breathable Running 10L Backpack
Free Delivery on all orders over $75.00

Extra 10% off - Use Code: EXTRA10
Shop All Flash Sale
Dimensions: 39 x 22cm
Adjustable hip/waist belt
Adjustable chest strap (height and girth)
Front zip pocket
AquaGuard®zips with double slides and cord pulls
Mesh side pockets
Two front zipped pockets for phone/wallet/keys (situated on the waist strap)
Highly water-resistant material: 1500mm water column
Front facing reflective strips & integrated reflective webbing to give 360 degree reflectivity
Capacity: 10L
Spacer-mesh back ventilation system
Hydration bladder compatible
We offer free delivery within the UK on all orders over £75.
Find out more on our delivery page. Worldwide shipping is also available.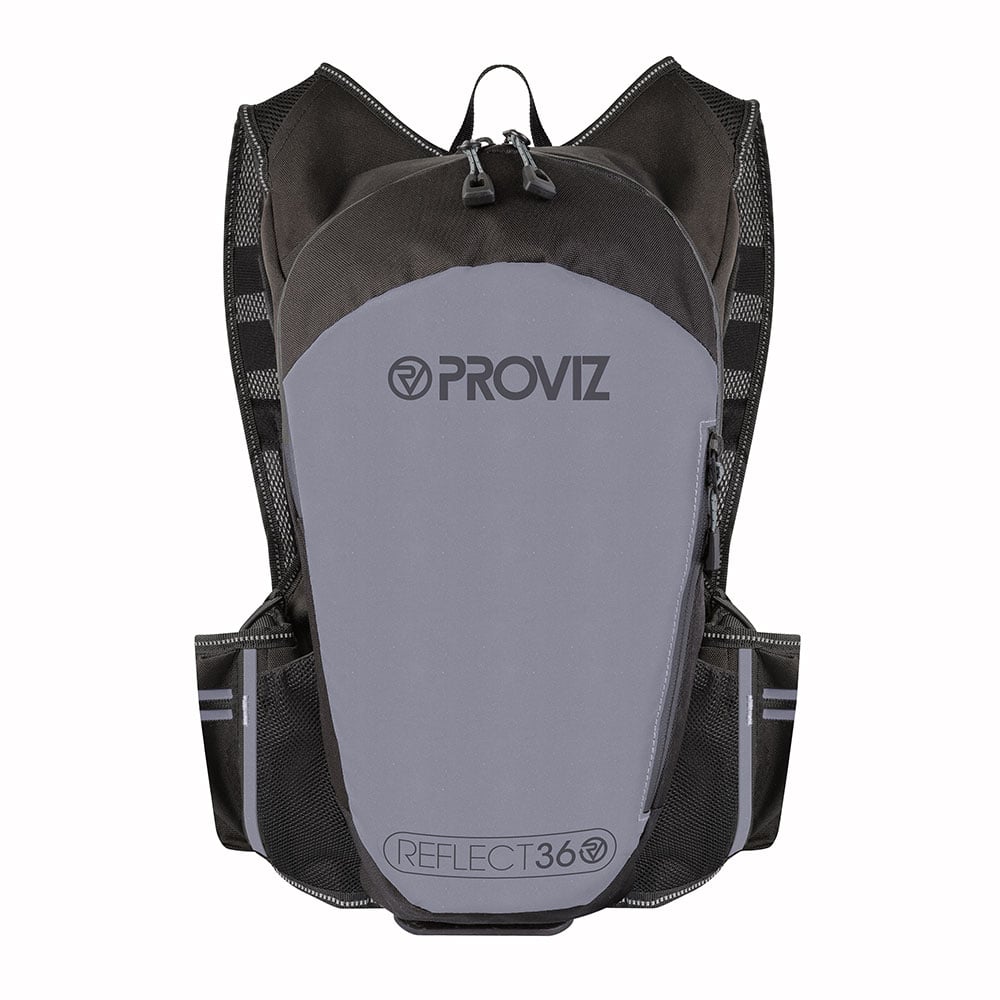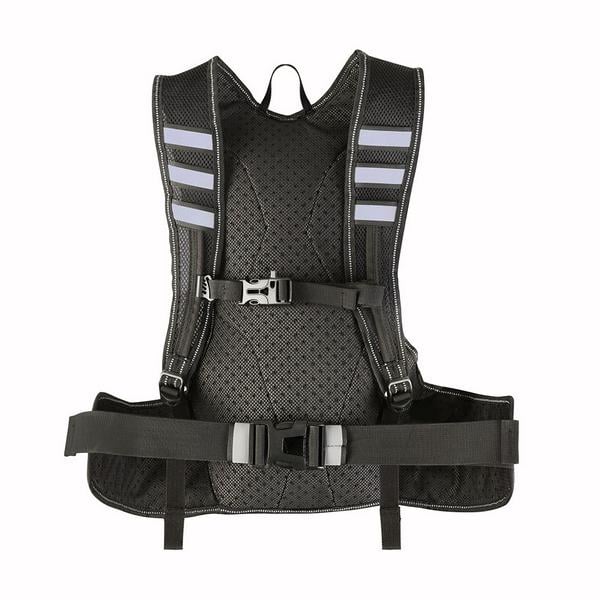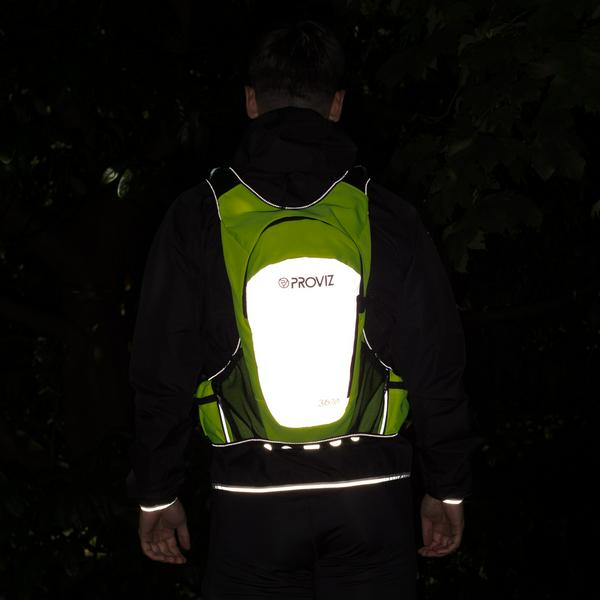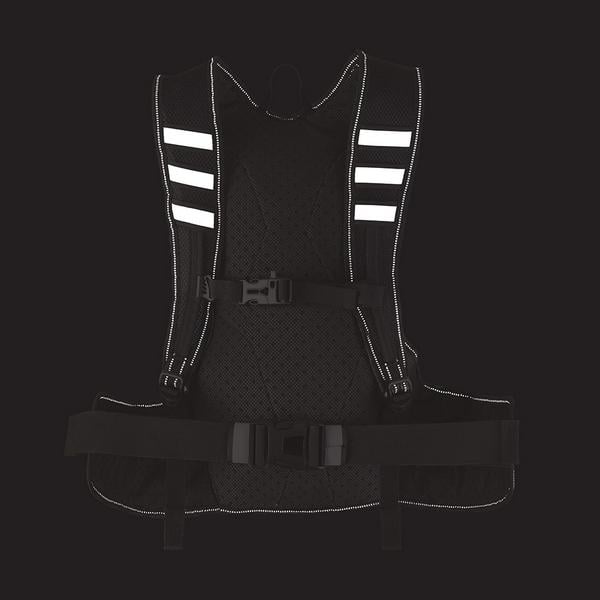 FEATURED IN
It's the super reflective back on this Proviz running backpack that makes it ideal for those early morning or evening winter runs.
Featured in the Best Backpacks for All Runners
Featured in Three of the Best Running Backpacks.
Stuff Magazine:If theres a brighter winter ready backpack our headlights havent hit it yet
Shortlist Magazine:Featured in Best Running Backpacks 2020
Featured in Best running backpacks for commuting home trail runs and long distances - This well-designed bag covers most of the back with chunky flat straps that will sit on the shoulders well no matter what you have inside.
Expert Reviews:Featured in Best Running Backpacks 2022 - Awarded Best Backpack for Nighttime Running.
The Proviz REFLECT360 running backpack is unisex and fully adjustable. It is designed to be an evolution of our best-selling Reflect360 Backpack, mainly used by cyclists. Runners, hikers and walkers usually require something smaller that moulds to their body and stays secure when under way so we've worked hard to give a different option but without comprimising on the 360 degree reflectivity. We have designed the running version to be able to carry your essentials to where you need to get to, be it a change of clothes, your lunch or a set of waterproofs! The oversized side straps that each have a zipped pocket to house your valuables that you wish to keep within easy access, come around the side of your body to give a secure and snug fit. The ventilated back system helps to allow some breathability and airflow while the fully adjustable chest and waist strap give you great flexibility. Using 100% CE EN 20471 certified reflective material, the Proviz REFLECT360 rucksack's millions of integrated reflective beads helps other road users to identify your position on the road at night. The rucksack is hydration bladder compatible for those who wish to use the rucksack on much longer runs and hikes. About the fabric: The fabric used for the REFLECT360 range is highly technical. During daylight it is a modest grey colour. At night, when the fabric picks up an external light source, eg vehicle headlights, it gives 'astonishing reflectivity'. The material is CE EN 20471 certified.
Why we love our
REFLECT360 Running Backpack
Side Pocket
A handy side pocket with a waterproof zip to keep key items - such as cash or house keys - more accessible.
Enlarged Waist Strap with Extra Zipped Pockets
An enlarged waist strap gives the backpack great stability, and the pockets on each side are perfect for keeping essentials easily accessible.
Chest Strap
The chest strap works with the waist strap to ensure that your backpack is stable and secure when you run.
360 Degree Reflectivity
It is not just the back panel that is made of reflective material, so are the front tabs and stitching. This gives the wearer 360 degree reflectivity.
Vented Back
The ventilated back system facilitates airflow and provides enhance breathability, which makes it more comfortable to wear whilst running.
Waterproof Zips and Pull Tags
The waterproof zips help to keep the backpack's contents dry and the pull tags help you to operate the zips when you're wearing gloves or suffering with cold fingers.
tag us on instagram #MYPROVIZ
Other customers also like