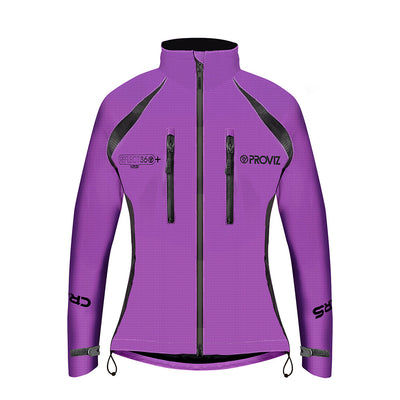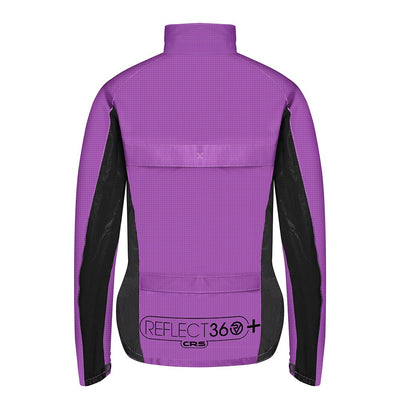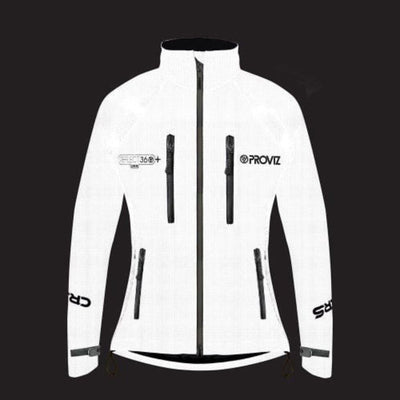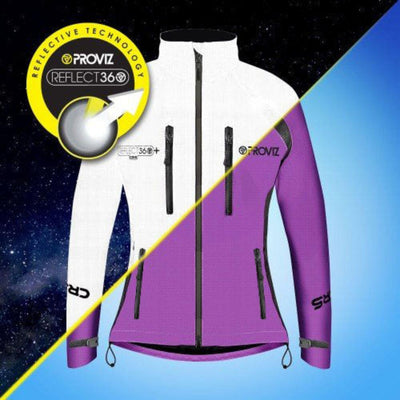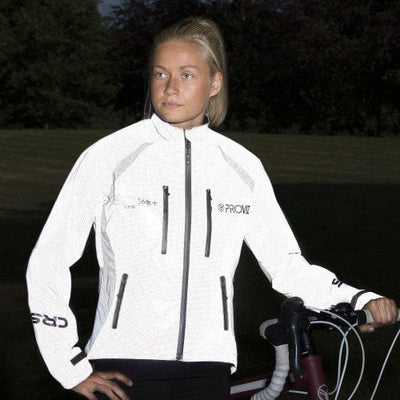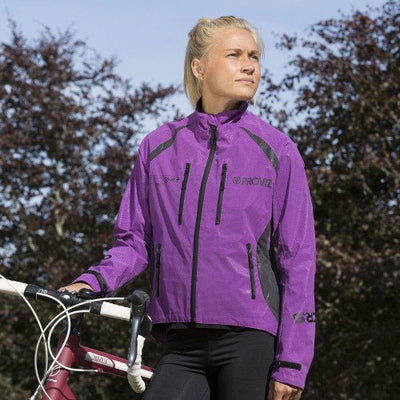 REFLECT360 Plus
CRS Women's Fully Reflective & Enhanced Waterproof Cycling Jacket
Free Delivery on all orders over $75.00

up to 25% off autumn essentials
shop autumn essentials
100% Reflective Material: High visibility for safety.
Multicolour Options with CRS System

(Colour Reflective System)

Tailored Fit: Comfortable and stylish.
Breathable & Waterproof: 10,000+gm/24hr breathability, 10,000mm waterproofing.
Seam-Sealed: Waterproof sewing lines.
Fleece-Lined Collar: Extra warmth and comfort.
Raglan Sleeves: Flexible movement.
Multiple Pockets: Convenient storage.
Low-Profile Spray Guard: Back protection.
Inside Mesh: Added comfort and breathability.
Built-In Air Vents: Front, sides, and back ventilation.
Adjustable Waistband & Cuffs: Customizable fit.
Waterproof Storm Zips: Secure and dry.
Lightweight: Approx. 400g (size dependent).
Machine Washable: Easy care.
User-Friendly Zips: Convenient handling.
We offer free delivery within the UK on all orders over £75.
Find out more on our delivery page. Worldwide shipping is also available.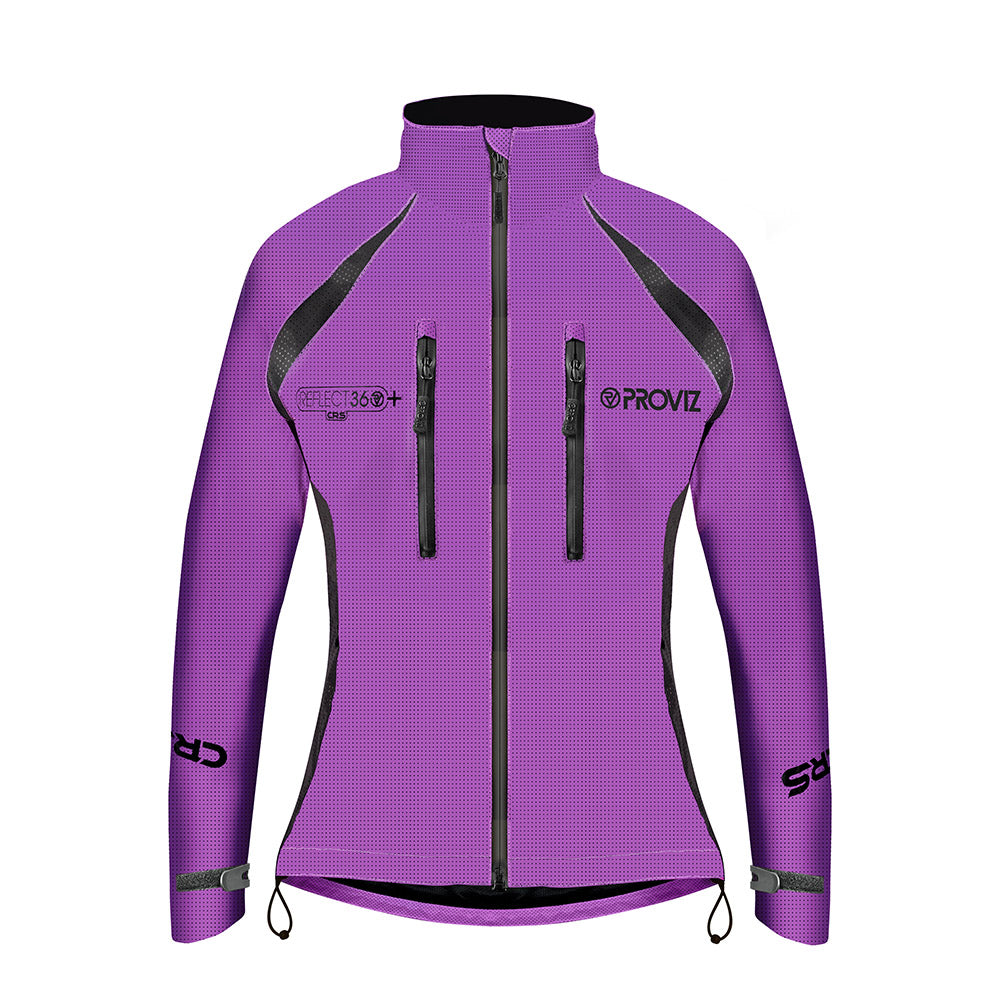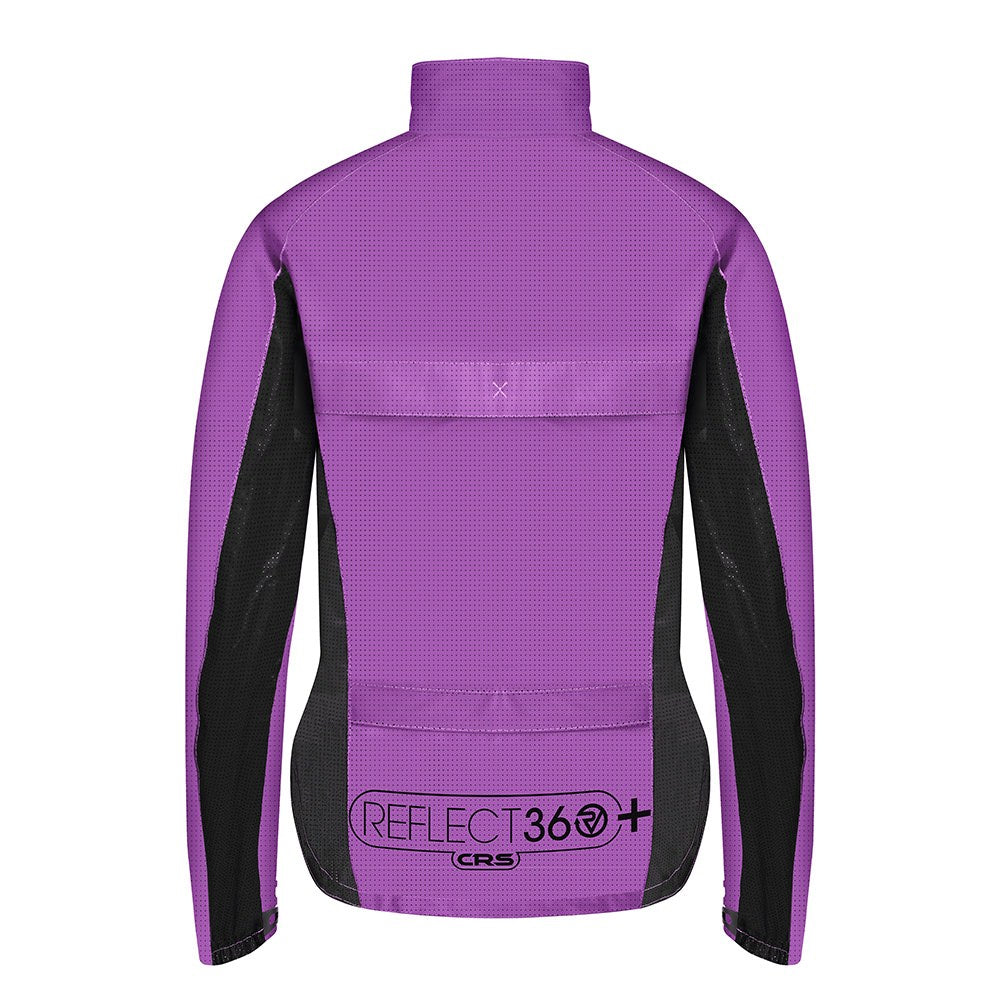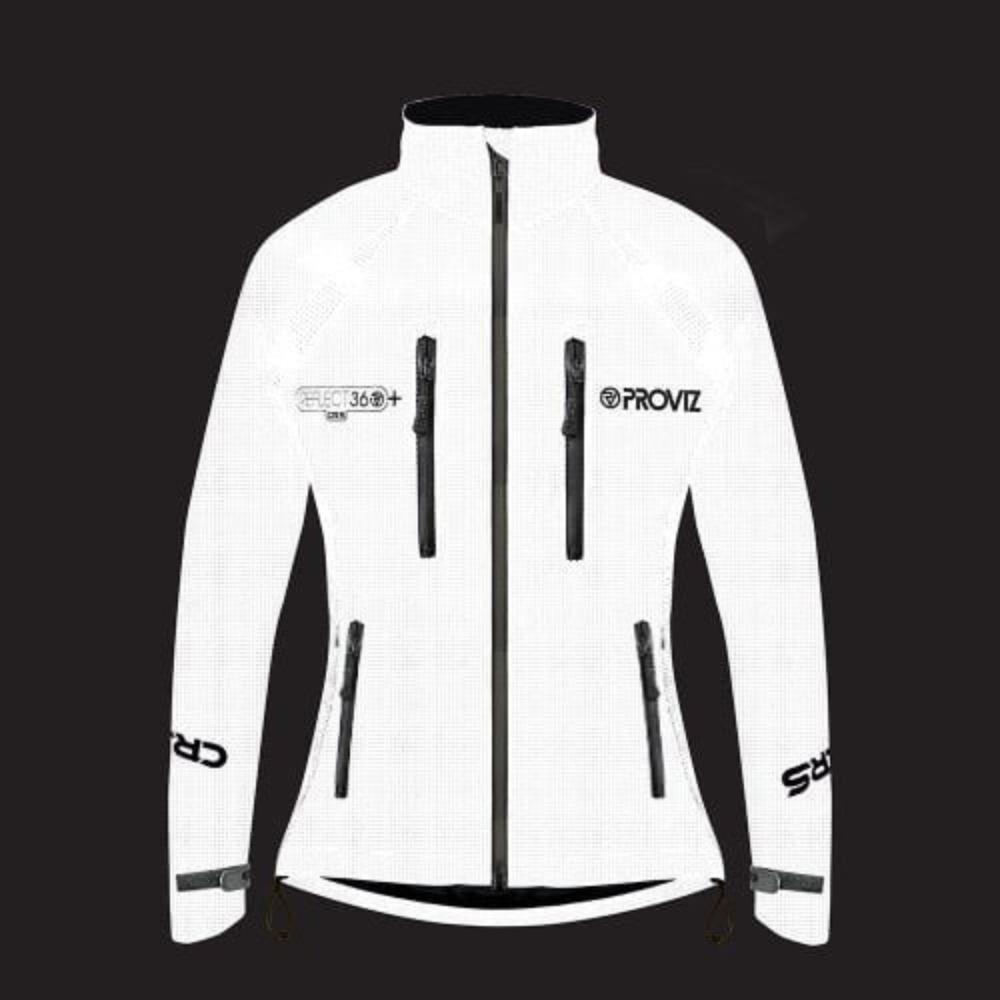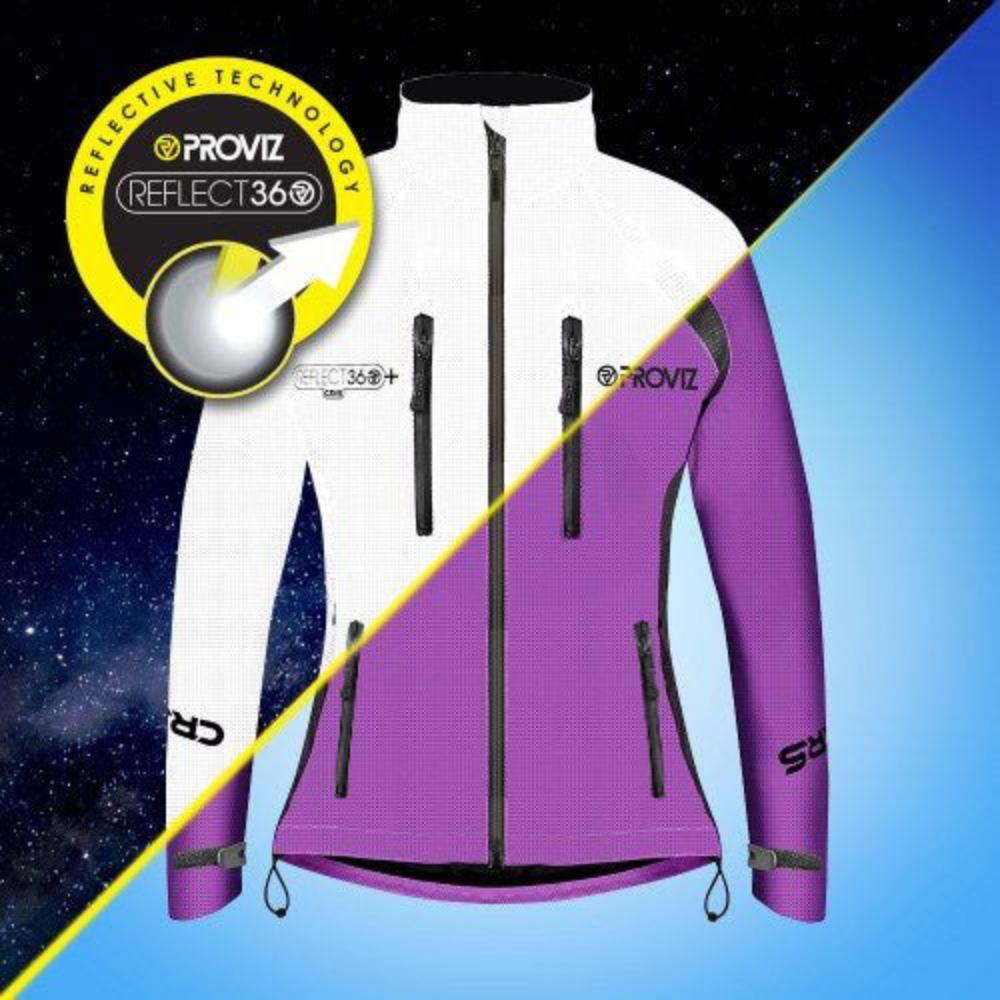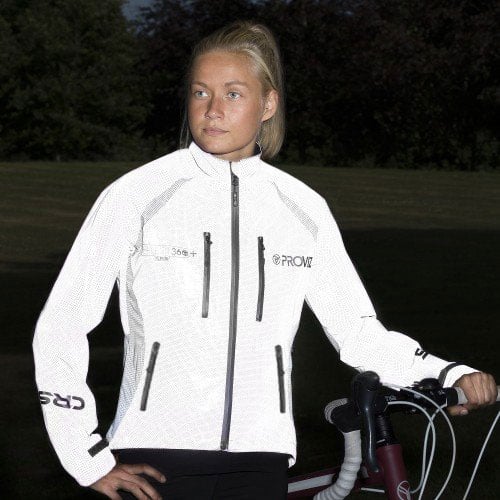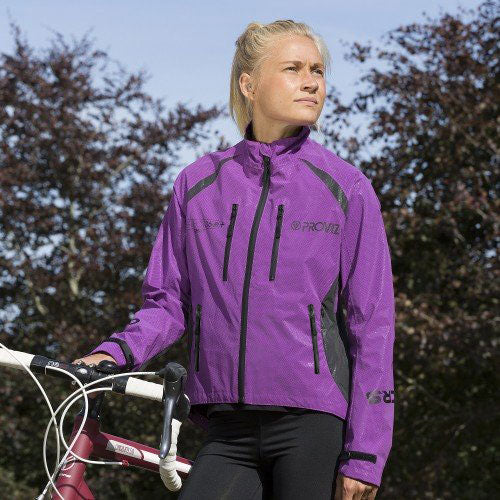 Discover the Proviz REFLECT360 CRS Plus Cycling Jacket – an ingenious amalgamation of our top-performing cycling gear. Merging the excellence of Proviz REFLECT360 Plus and Proviz REFLECT360 CRS (Colour Reflective System), this jacket exemplifies cycling perfection, satisfying even the most demanding cyclists.
Our customers sought the pinnacle of cycling innovation, and the REFLECT360 CRS Plus was born. This masterful creation unites the exceptional qualities of two outstanding jackets, culminating in a hybrid marvel that redefines cycling comfort and performance.
Embarking on a journey of technical prowess, the REFLECT360 CRS Plus outshines its predecessor, the REFLECT360 CRS jacket. The latter was groundbreaking for introducing the world's first fully reflective jacket in various colours. Building upon this innovation, the CRS Plus employs an advanced technical film, enhancing breathability to an impressive 10,000/24hr and achieving a waterproof rating of 10,000 mm. Its remarkable reflectivity remains, a hallmark of the globally acclaimed REFLECT360 range.
Elevating both form and function, the CRS Plus boasts a tailored fit and convenient side pockets. Engineered with an ultralight material, this jacket is the ally of those who push their limits, providing effective cooling through its ingenious 'through-flow' design. Opening the front pockets serves as vents, inviting air to the chest and guiding its exit through underarm or shoulder vents. As temperatures drop, the waterproof front chest pockets ensure both protection and ease of movement, while a refined two-toned design adds sophistication to your road presence, day or night.
Fabric Insight: Infused with countless micro-reflective beads, this material responds to vehicle headlights by reflecting light back to the source. This innovation empowers drivers to identify cyclists earlier, promoting safer maneuvers. Merging the finest attributes of REFLECT360 Plus and REFLECT360 CRS, the CRS fabric epitomizes technical excellence, culminating in a fully reflective jacket that's second to none.
FEATURED IN
WINNER of BEST BUY REFLECTIVE CYCLING JACKETS
Looks great is waterproof and warm but most importantly completely reflective. Coated with minuscule glass beads at night the jacket reflects light as an unmissable bright beacon.
Top Ten Winter Cycling Jackets: Outstanding safety and style this is a winner for anyone commuting regularly in urban areas.
Health & Fitness Magazine:This wins hands down for night time visibility
Bike Rumor:You can almost look like a normal human off-the-bike. Yet still it packs the same retina-searing reflectivity with headlights or a camera flash turning it bright white.
Techregister: We tested a full range to make sure you feel safer during winter rides and commutes and the winner was the Proviz REFLECT60 CRS plus cycling jacket.
Super high-tech offering extra breathability and waterproofing.

Why we love our REFLECT360 CRS Plus Cycling Jacket
The Material
Exclusive to Proviz, the coloured reflective material used for the CRS Plus incorporates millions of tiny glass beads which provide an astonishing level of reflectivity. The jacket is also highly breathable (10,000gm/24hr) and exceptionally waterproof (10,000mm), with taped inner seams to prevent water getting in at sewing lines.
The Lining
The CRS Plus Cycling Jacket has a soft cotton mesh lining which acts as a climate control mechanism. The mesh increases airflow by maintaining separation between your skin/shirt and the outer layer of the jacket. This allows your body to maintain a more consistent comfort level, without the need to constantly add or remove layers.
Pockets
The CRS Plus Cycling Jacket incorporates two outer chest, two side and one large back pocket, so you will not struggle to find somewhere to put the items you need for your ride. The outer chest pockets also double as additional vents to help cool you down on warm days.
Cuff
This innovative jacket features hard wearing cuffs with hook and loop attachments. These can be easily adjusted by the wearer to suit their size and specific requirements. Keep them loose during the spring/summer to facilitate airflow, or tighten them up to keep out cold, wintry weather.
Under Arm Ventilation
Perfect for warmer days and intensive road training sessions where you are sure to work up a sweat, the CRS Plus Cycling Jacket features 30cm zips under each arm which can be opened to increase air flow and cool you down.
Shoulder/Back Ventilation
Every cyclist gets hot across the shoulders/upper back, even on cold winter days. To combat any discomfort caused by this, we've built in an extra ventilation flap in the back of our CRS Plus Cycling Jacket which will let hot air out but won't let any inclement weather in.
Waterproof Zip with pull and Garage
Not just a neater way to fasten your CRS Plus Cycling Jacket, the simple yet effective zip-garage at the top of the full length storm zip ensures that you do not experience any nasty neck chafing when your jacket is zipped up on colder days. All the zips are waterproof too, so not a drop of rain will get in. Handy zip pulls come as standard to help on those cold days!
Micro-Fleece Collar
Staying safe on your bike during the dull days and long, dark winter evenings should not have to mean a compromise on comfort. Our CRS Plus Cycling Jacket features a micro-fleece lined collar for extra warmth and comfort during colder months.
Other customers also like