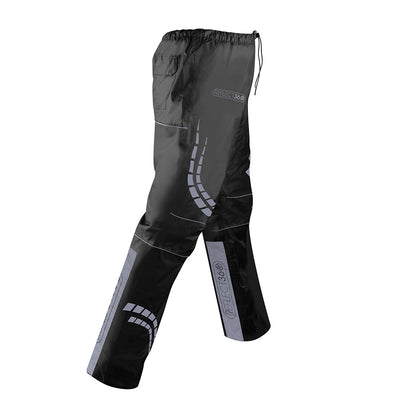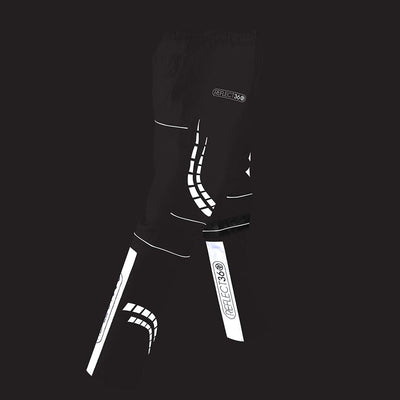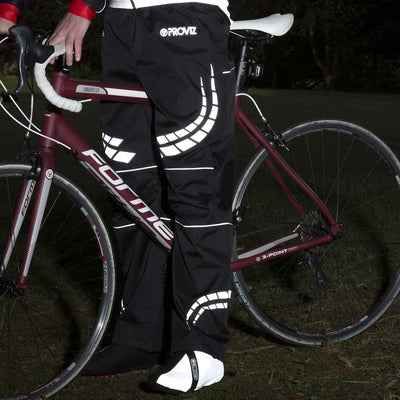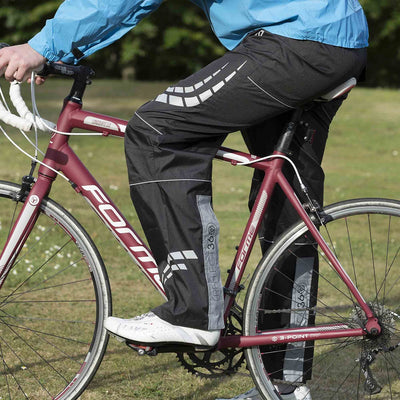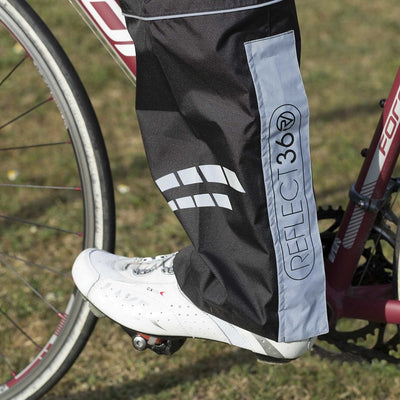 REFLECT360
Men's Waterproof Reflective Pants
Free Delivery on all orders over $75.00

Extra 10% off - Use Code: EXTRA10
Shop All Flash Sale
100% waterproof (5,000mm) material
Seam-sealed
Large amounts of reflective detail and piping
Strategic reflective panel on rear of trousers for cars to see from behind
Drawstring elastic waist
Lower leg zip (30cm – size variable)
Adjustable ankle strap (to ensure no chain snagging!)
Back pocket
Cut: Cycle specific
Weight: 300g
We offer free delivery within the UK on all orders over £75.
Find out more on our delivery page. Worldwide shipping is also available.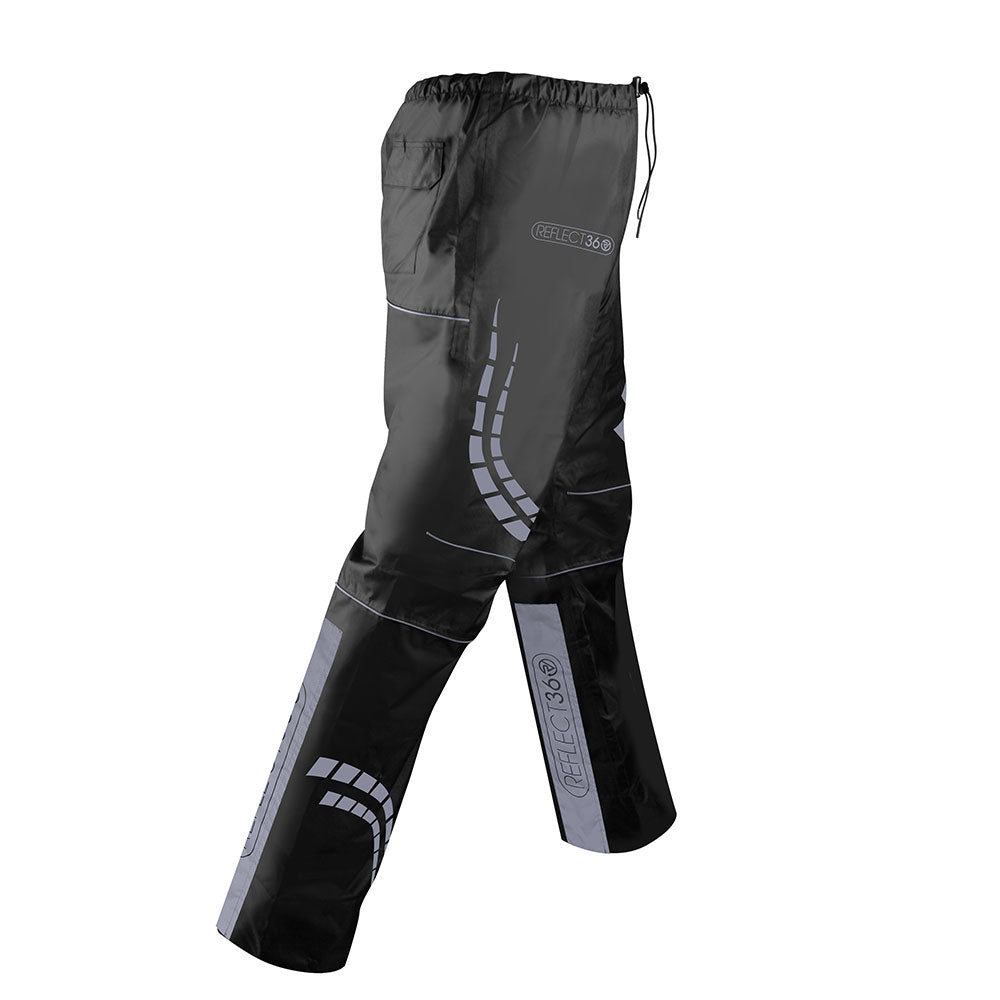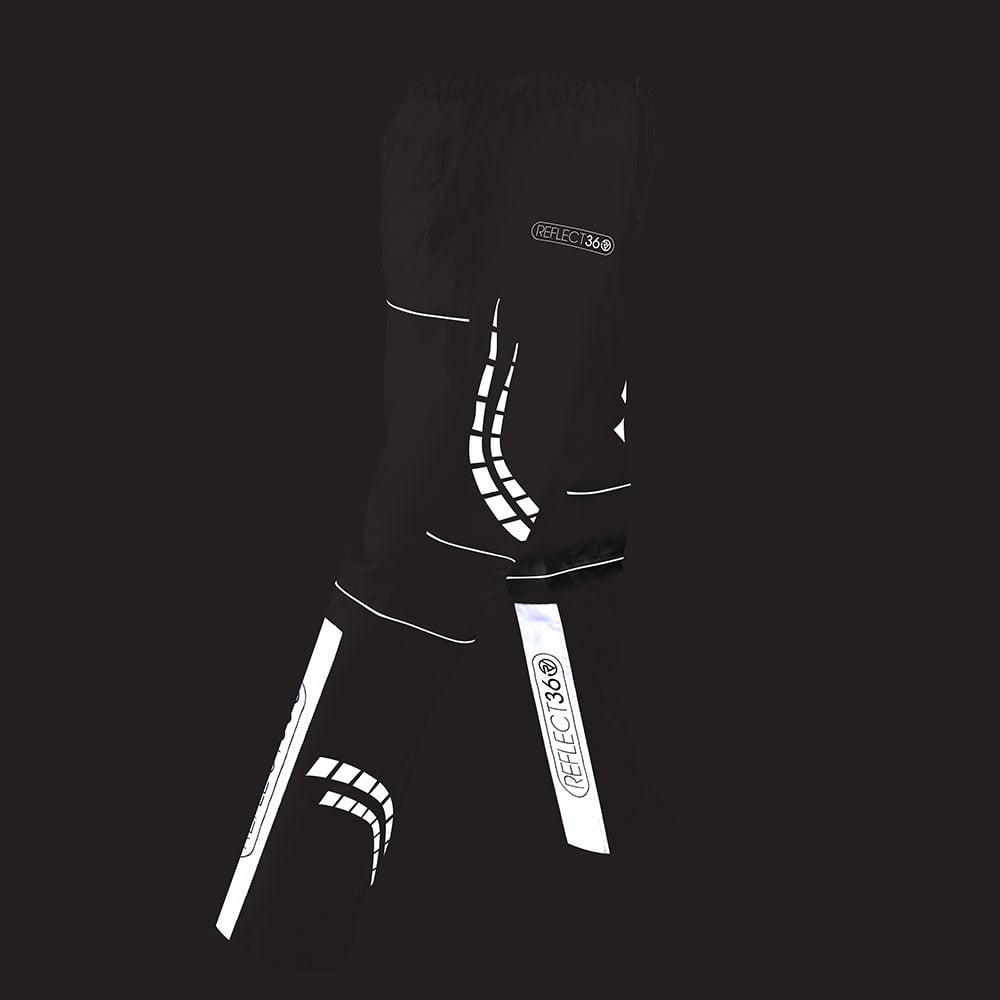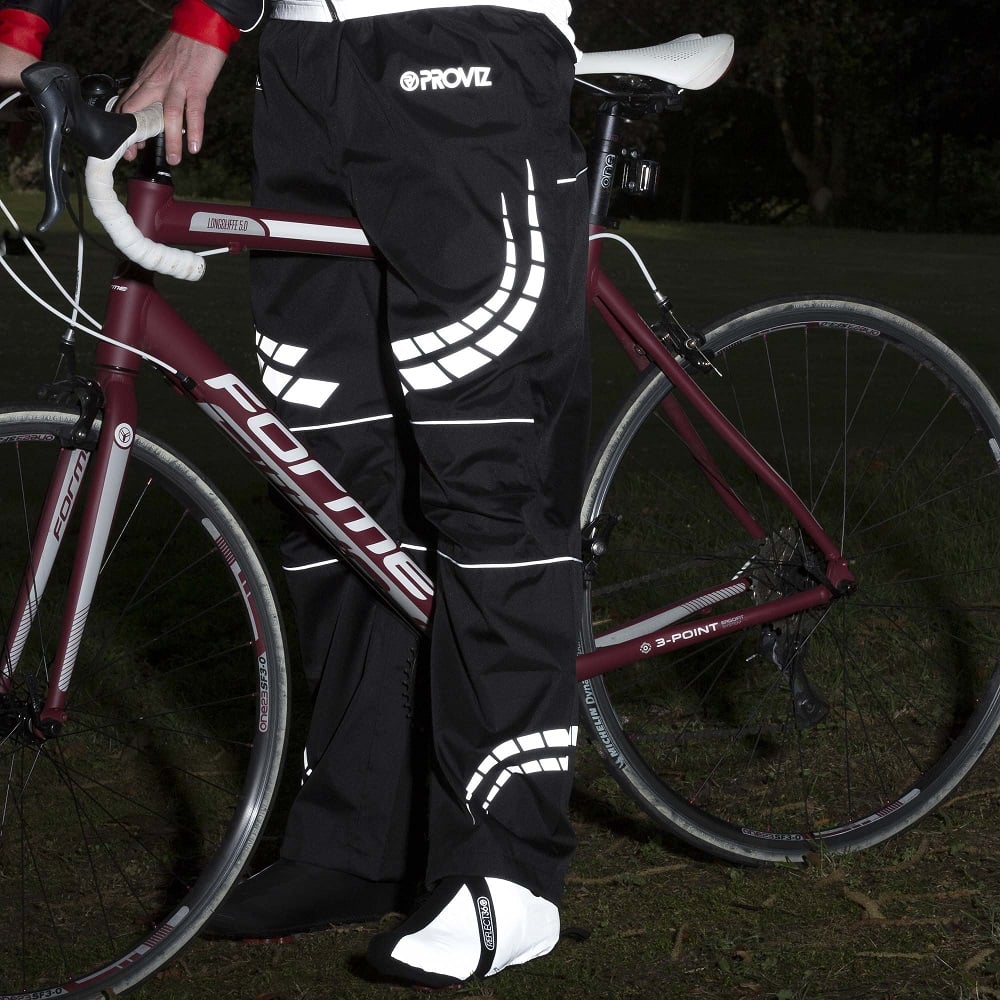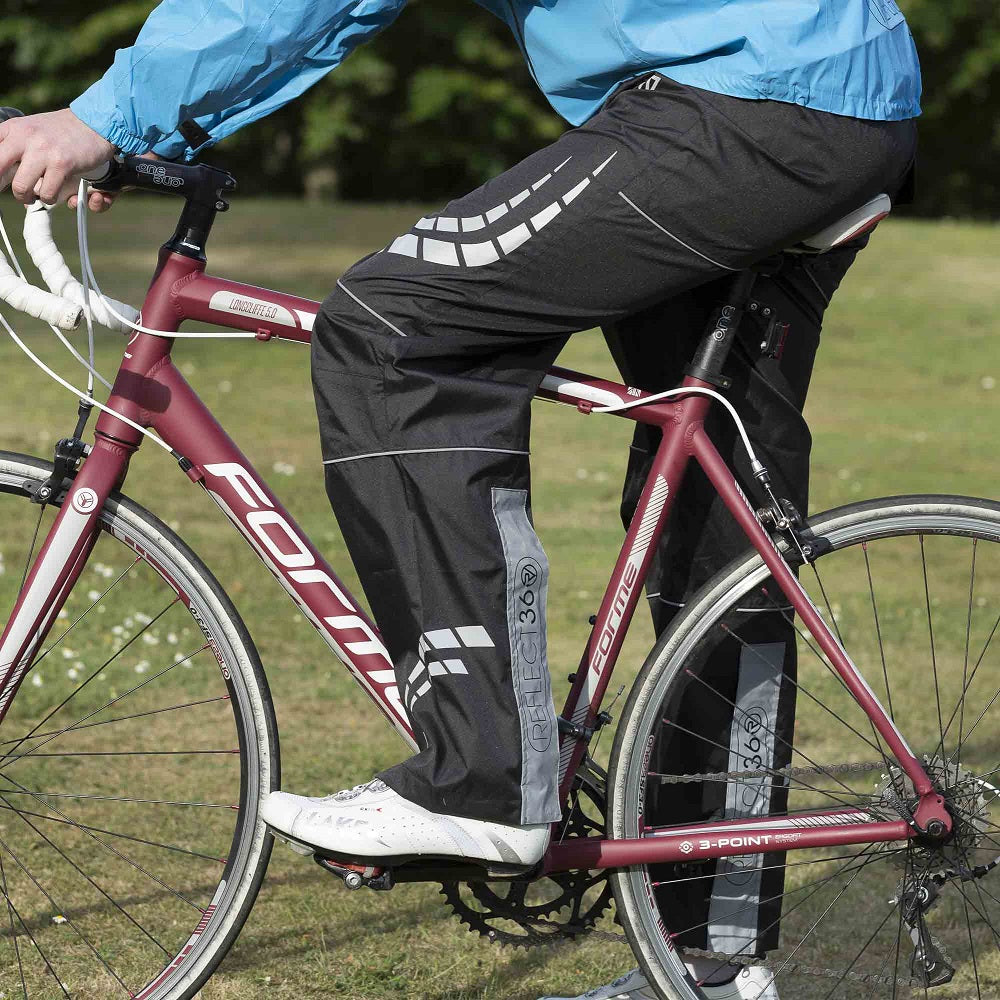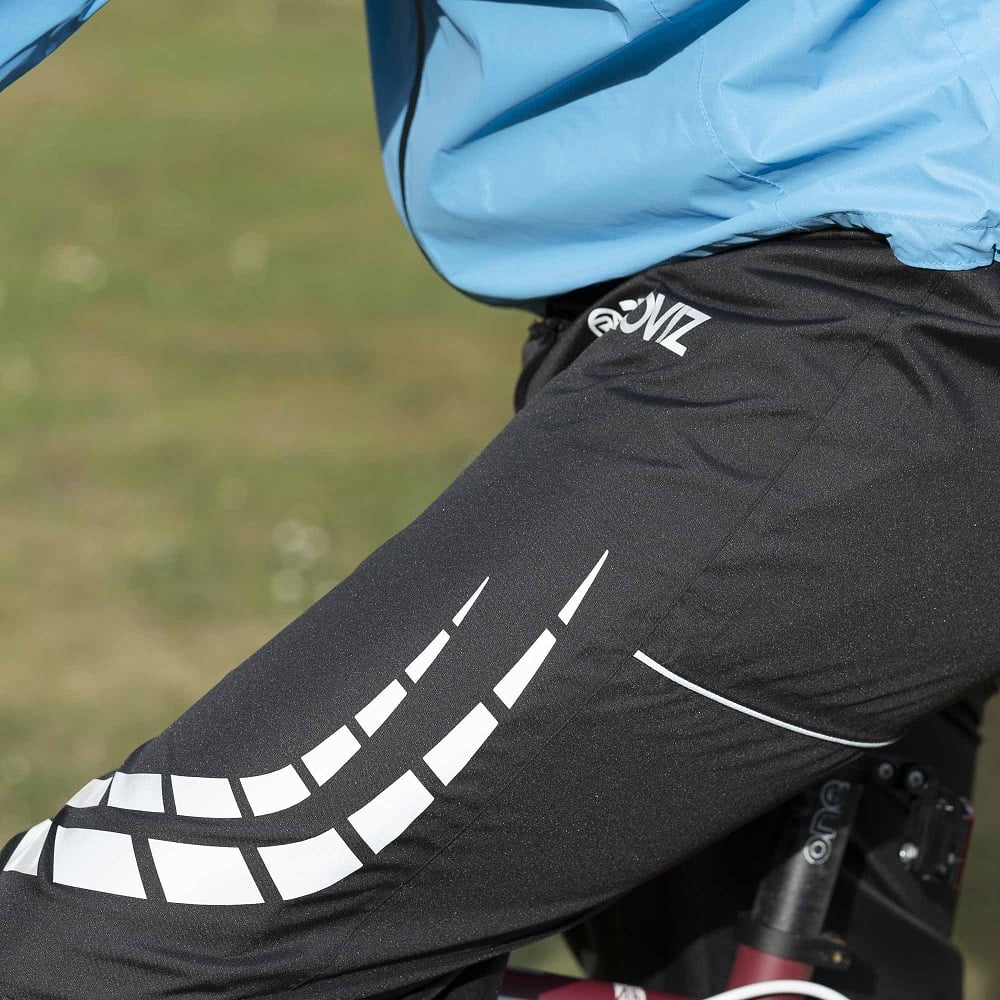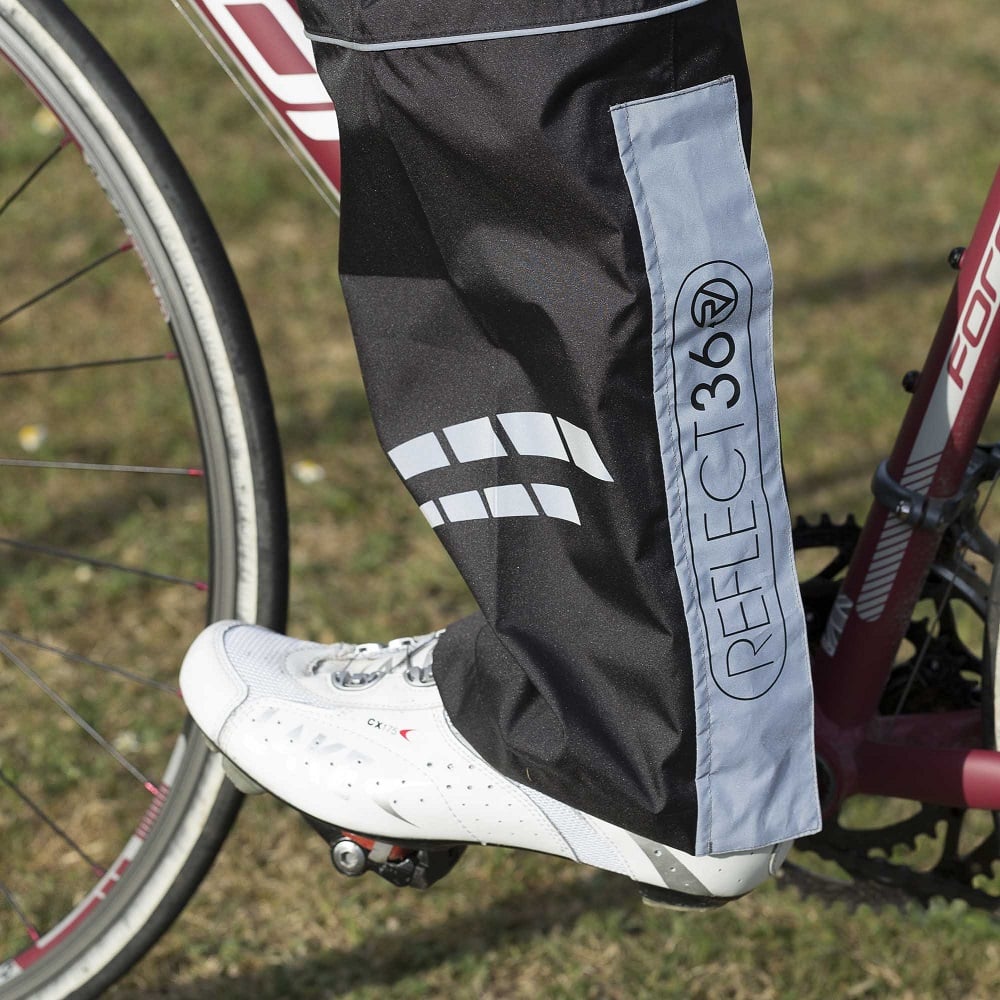 The REFLECT360 pants are a rugged, hard-wearing waterproof trouser designed specifically to ensure you arrive at your destination dry on those wet and windy days. Designed specifically for cycling and cut accordingly, the lower leg has a 30cm (size variable) zipper to allow you to quickly get them on/off over your shoes. The zip has a protective waterproof velcro flap to ensure no water can access the zip. An additional velcro adjustable leg band gives you flexibility to ensure no excess material will get caught up in your chain. The REFLECT360 range is renowned for its reflective features, so we have given the REFLECT360 waterproof trousers ample two thick stripes at the top (on each leg) and the same on the lower leg ensures lots of reflection at night, but we've also added a 5cm thick strip on the lower zip cover along with plenty of extra reflective piping and logos.
Why we love our
REFLECT360 Waterproof Trousers
Reflective Trim and Detailing
In keeping with the whole REFLECT360 range, we have integrated a large amount of reflective panelling and detailing so that you can stand out as much as possible on those rainy days when the visibility for cyclists and drivers is reduced.
Seam-sealed Waterproofing
Seam-sealing of any waterproof garment is critical so that no water gets through the sewn seam. A waterproof tape is heat-sealed on to the inside sewing line so that even in the heaviest downpour not a single drop will get in.
Adjustable Leg Cuff
Utilise the hook and loop elastic leg cuff so that you can adjust the fit around your lower leg to your personal preference. If you have trousers on underneath then you'll be able to keep them dry and not turn up at work dragging your soggy trouser bottom along the floor! Underneath the reflective REFLECT360 panelling you see in the photo you have a 30cm zipper to allow the trousers to be easily pulled on and removed.
Elastic Drawstring
Waterproof overtrousers should be designed to enable you to get them on and off as easily as possible. Use the elastic drawstring and fastener to adjust them to the perfect fit while riding, but also loosen them easily and quickly to get them off again!
Back Pocket
We have included a neat little back pocket to use when off the bike. It is always handy to be able to quickly store any item when you've just got off your bike and you're looking to pop your keys, bike light etc somewhere while you're getting your kit together.
tag us on instagram #MYPROVIZ
Other customers also like