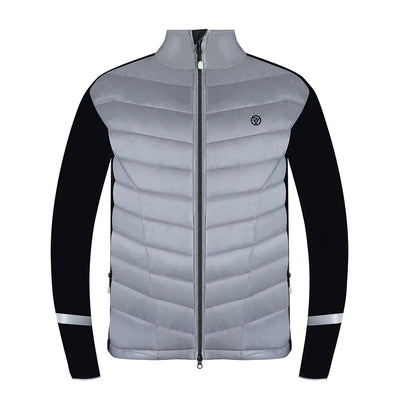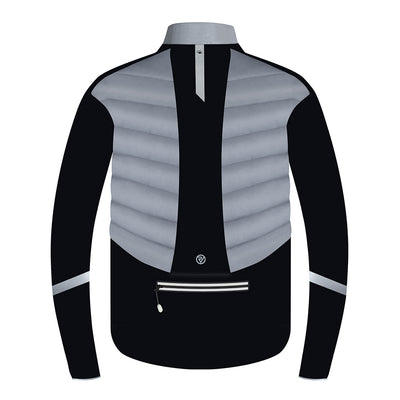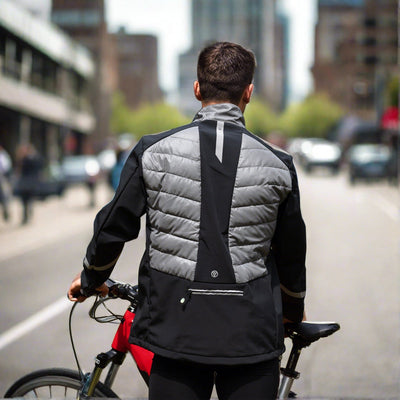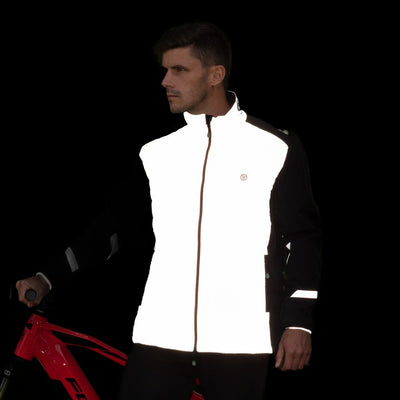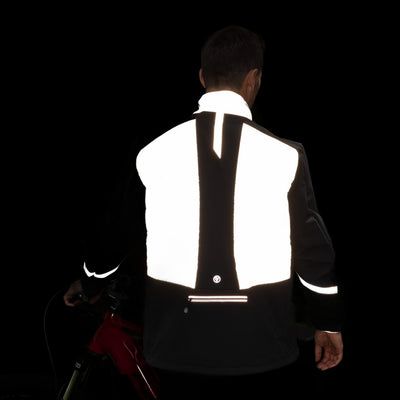 REFLECT360 Platinum
Men's Fully Reflective Commuter Cycling Jacket
Free Delivery on all orders over $75.00
Highest Visibility Levels: 100% reflective material (CE EN 20471)
Breathability: 10,000+gm/24hr
Water-resistant
Dupont Sorona synthetic down insulation on chest and back
Thermal stretch fabric with brushed waffle knit inner-side
Double, two-way front YKK Vision zips for easy access to underlayers
Two side pockets & a rear pocket - all utilising YKK Zippers
Glow in the dark zip pulls
Concealed thumb holes
Reflective hem binding
Zip pockets with mesh inner for secondary use as ventilation
Zip garage
Relaxed fit
Repreve PET pocket mesh lining (made from recycled plastic bottles)
We offer free delivery within the UK on all orders over £75.
Find out more on our delivery page. Worldwide shipping is also available.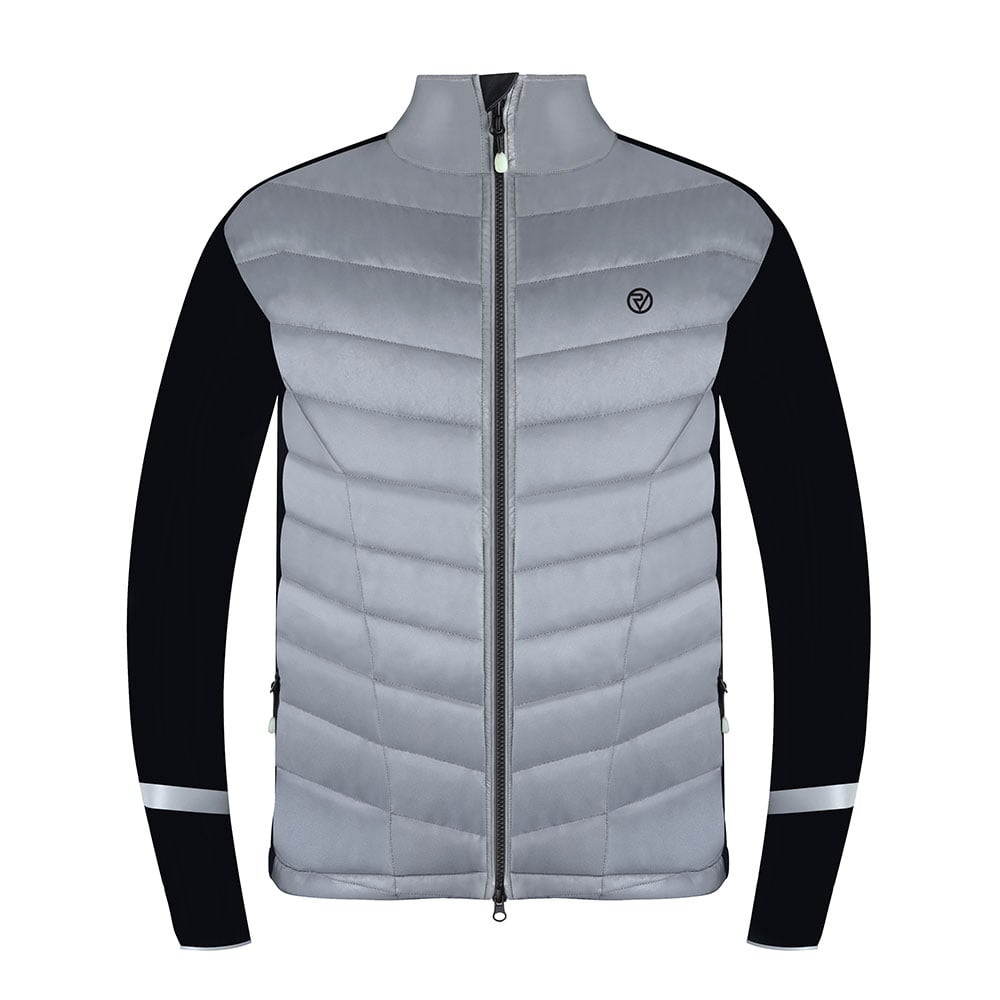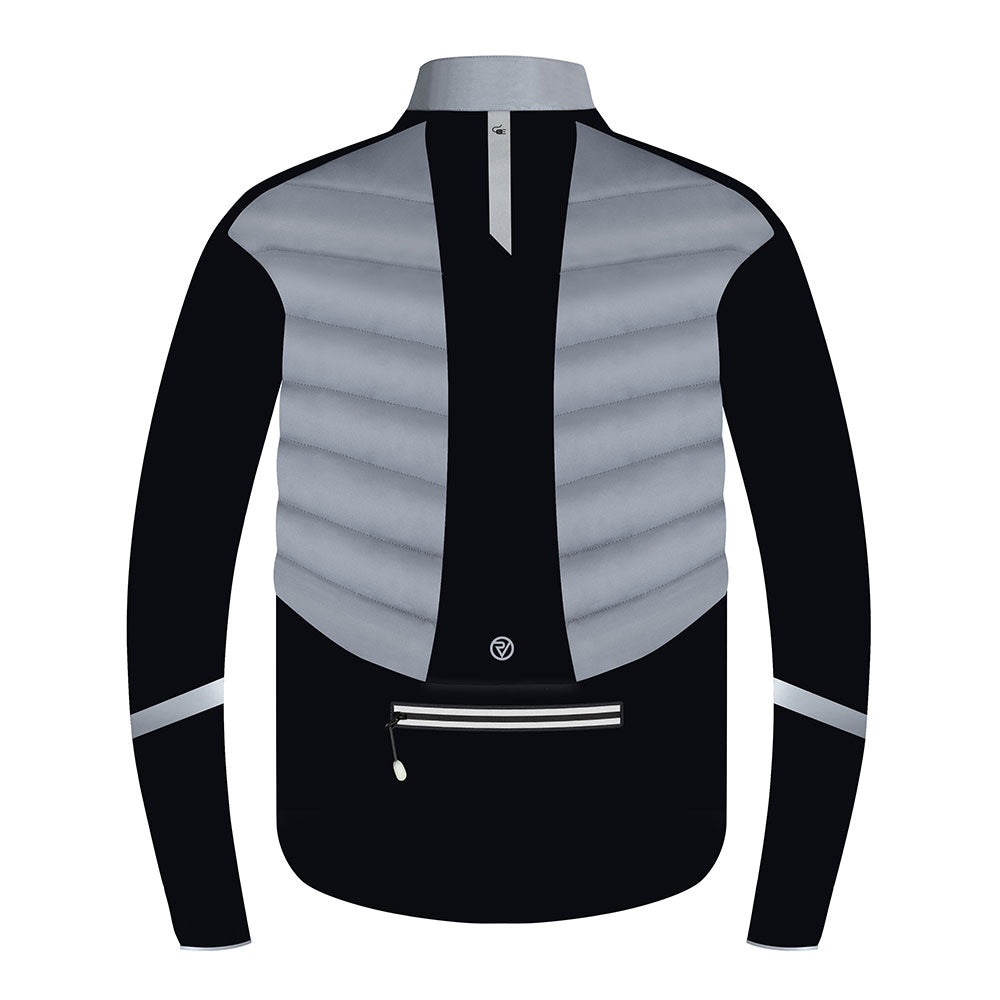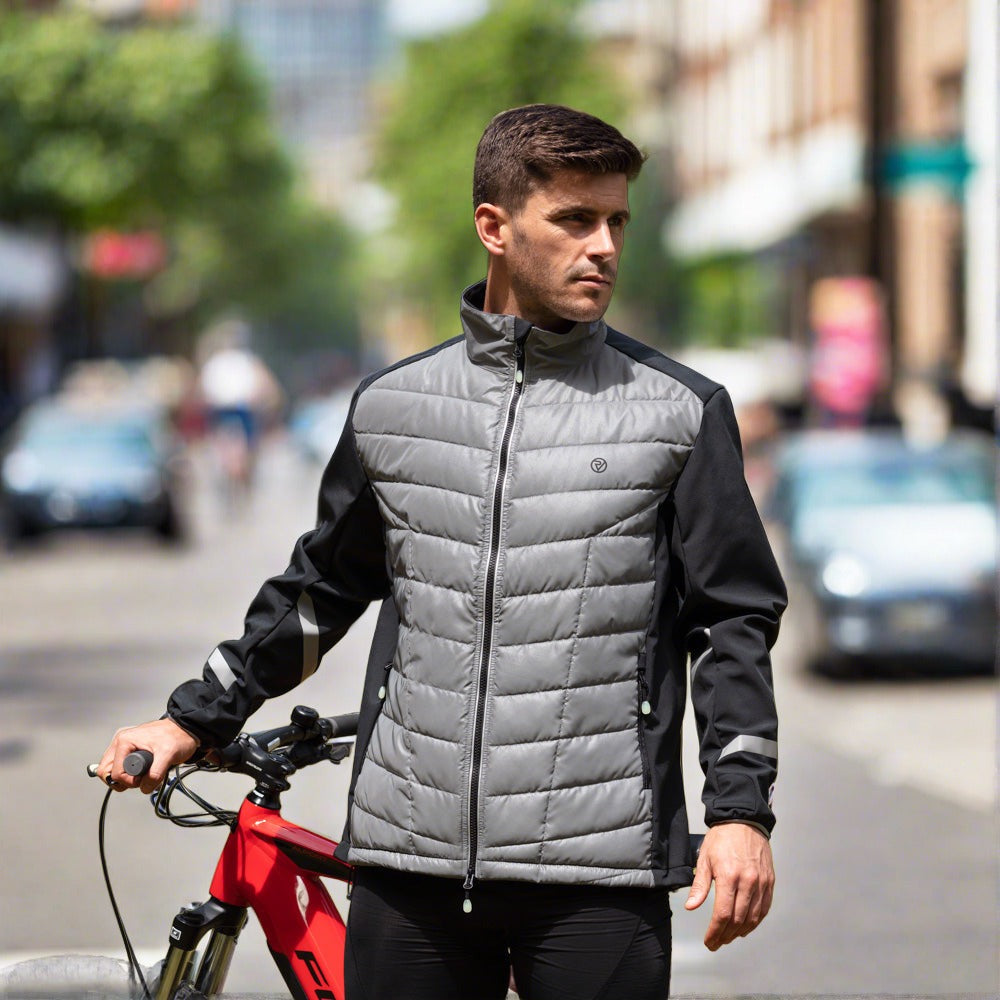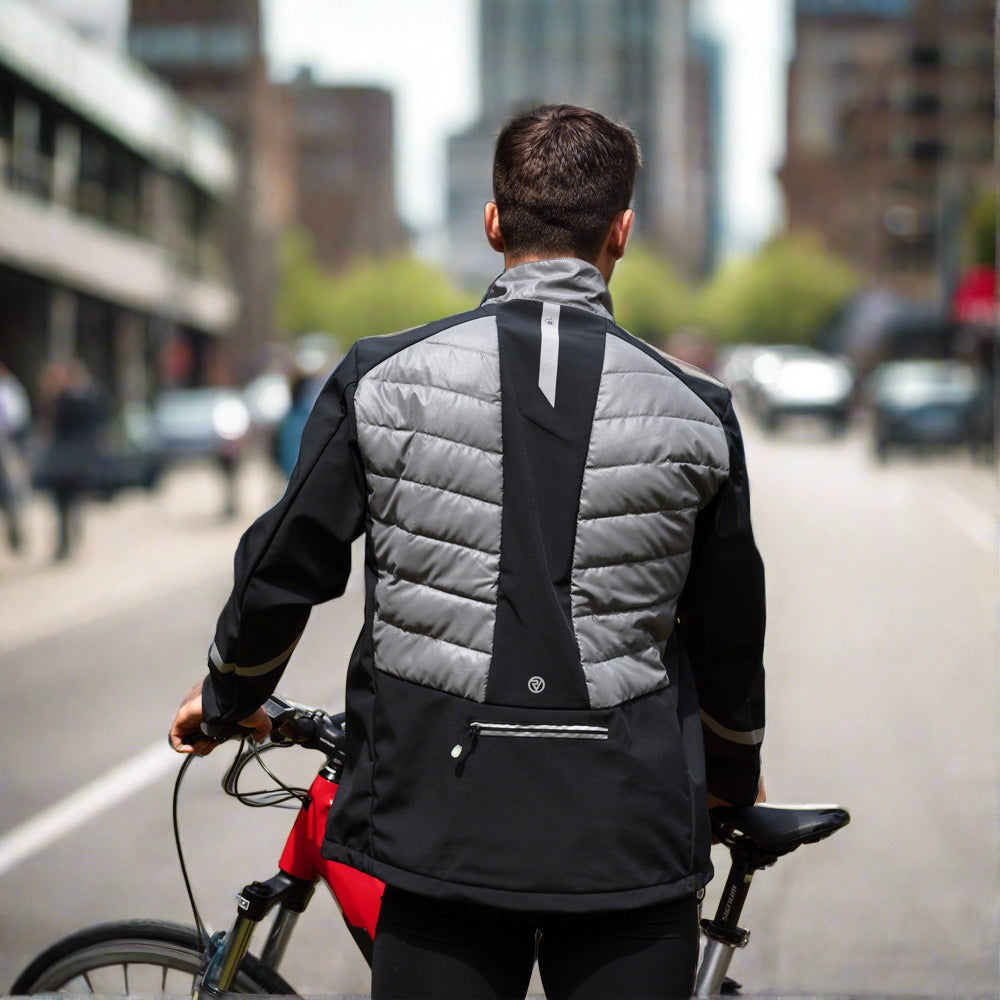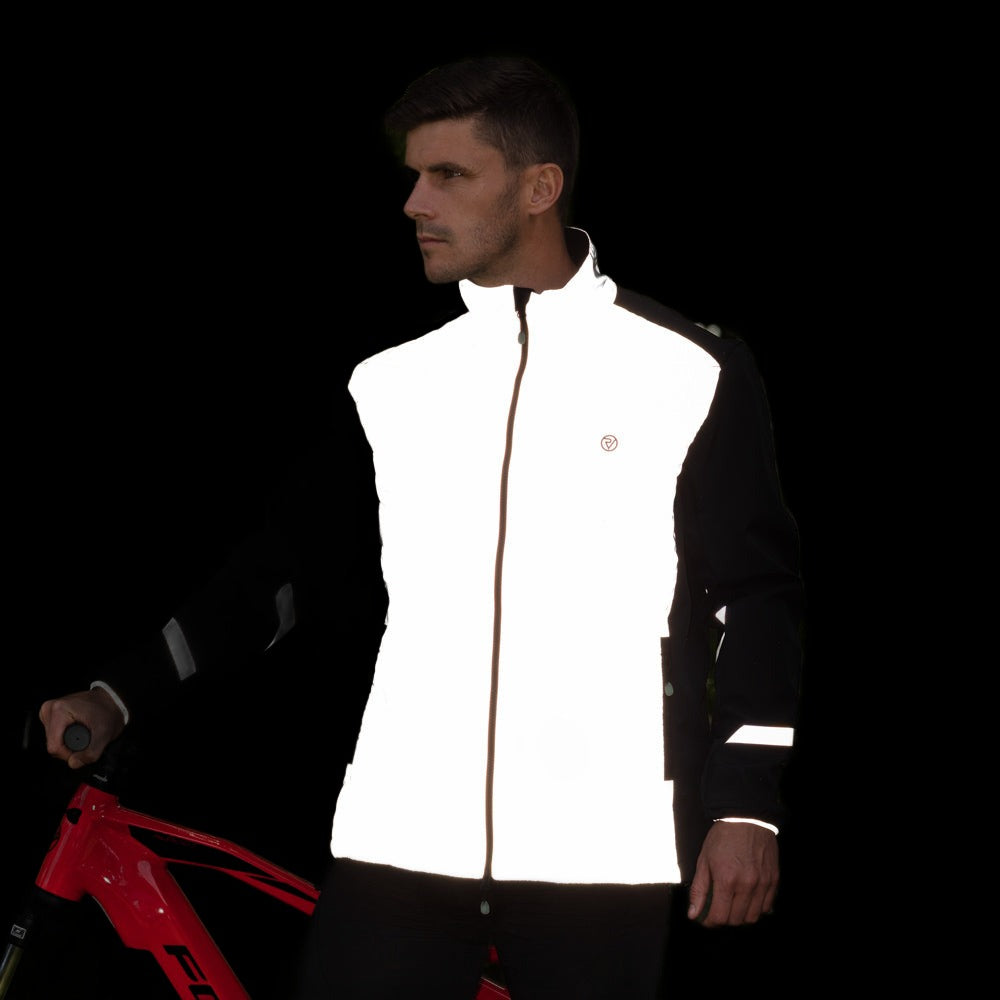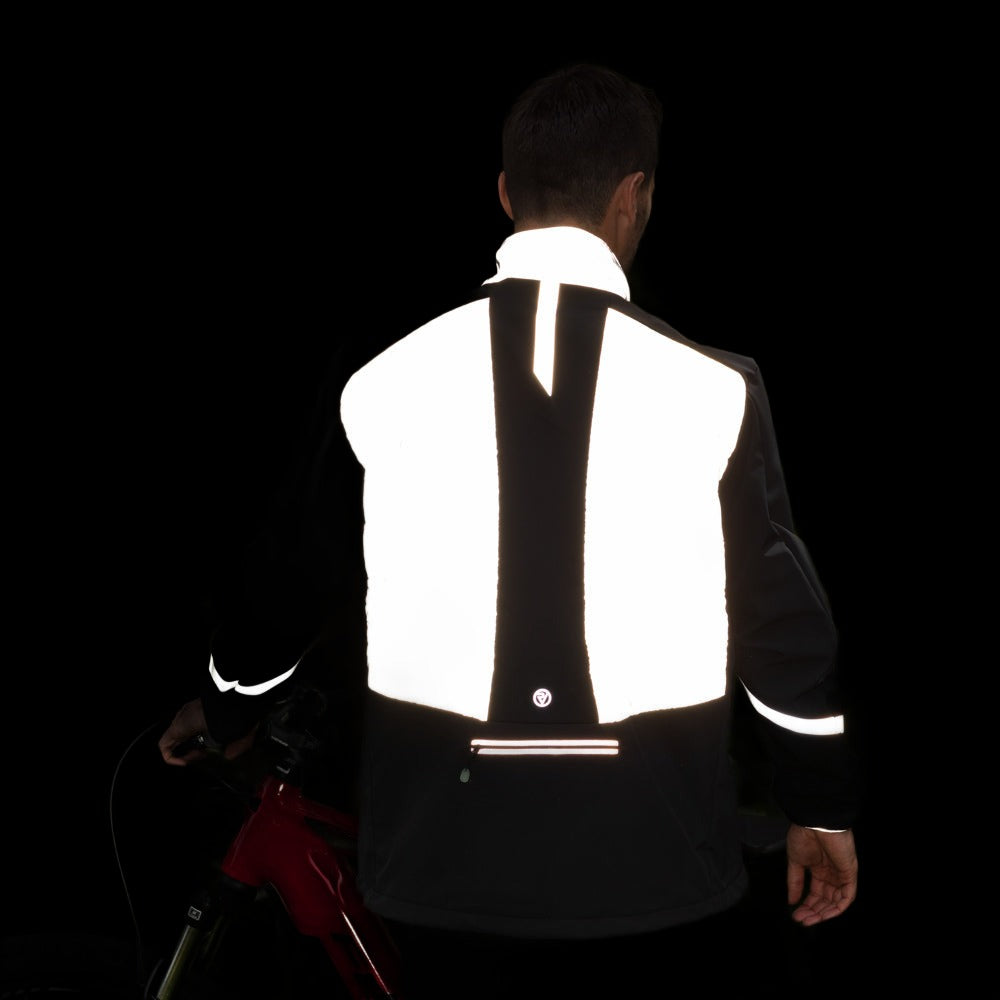 FEATURED IN
The Proviz Platinum E-bike Jacket doesnt just make you clearly visible to other road users its also waterproof and windproof with down padding to keep you snug while the motor is taking the hard work out of your commute
The Proviz Platinum E-Bike Jacket is intended for use on and off the bike.
A proper technical design that will keep you warm on the coldest of rides
Road Bike Rider Tested & Rated 4.5/5 :Delivers high-end design and performance. It is manufactured exceptionally well with thoughtful details. Yes it is pricey but it will last you for many winters and can double as an everyday winter jacket too.
Bike Radar Its very well put together and has a wealth of features.
Experience the pinnacle of cycling comfort and innovation with our REFLECT360 Platinum commuter jackets. Tailored to address the daily challenges of cycling commuters, these jackets offer an exceptional blend of warmth and functionality.

Traditional 'shell' cycling jackets lack the necessary insulation and casual aesthetic that many cyclists require.

Our REFLECT360 Platinum jacket redefines cycling attire, catering to the needs of commuters who seek enhanced insulation and a casual look.

Crafted to Perfection: Our designers created a jacket from the ground up that features a relaxed fit and a subtle day-to-night transitional look, that still keeps you visible.

The REFLECT360 Platinum jacket integrates advanced features, such as 100% reflective REFLECT360 material on the front. The Reflect360 outer-shell provides a modest grey look during the day, but when exposed to external light sources in low-light conditions, shines bright and provides the highest levels of reflectivity.

Filled with synthetic Dupont Sorona synthetic down on the front, this jacket is sure to keep you warm on your winter commutes. This meticulous design guarantees optimal warmth and functionality.

Unrivaled Comfort: The REFLECT360 Platinum jacket boasts a thermal stretch fabric with a brushed waffle knit on the inner side of the arms and middle back. This innovative combination enhances comfort and flexibility during rides.

Dual-Purpose Design: Elevating its functionality, zip pockets with inner mesh lining serve as ventilation points, ensuring your comfort during strenuous commutes.

Embrace the future of cycling attire – the REFLECT360 Platinum commuter jacket. Designed with you in mind, it sets new standards in warmth, functionality, and style for urban cycling.


Why we love our
REFLECT360 Platinum Men's Fully Reflective Commuter Jacket
Glow In the Dark Zip Pulls
Glow in the dark zip pulls not only help you be seen more easily at night but also allow you to more easily use the zips, especially with gloves on.
Reflective Cuffs and Thumb Hole
Reflective trim on the cuffs help you to be seen more easily at night and aid signalling and the cuffs also have a thumb hole to keep the sleeve in place on those really cold days.
Synthetic Down Insulation
Dupont Sorona synthetic down helps to ensure good insulation especially during the colder months of the year. The REFLECT360 material also ensure excellent visibility at night.
Side Pockets with Glow in the Dark Zip Pulls
Side zip pockets give ample storage and allow you to keep your valuables close-to-hand and the zip pulls also feature a glow in the dark toggle.
Rear Pocket with Glow in the Dark Zip Pull
The rear pocket with reflective detailing and a glow in the dark zip pull gives you more storage and also extra visibility at night.
Customised Reflective Patterning
Customised reflective patterning gives a sleek look and helps to ensure extra visibility at night.
tag us on instagram #MYPROVIZ
Other customers also like