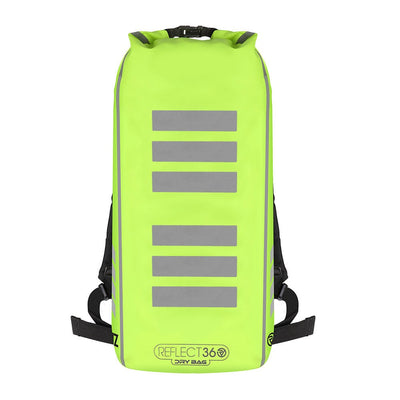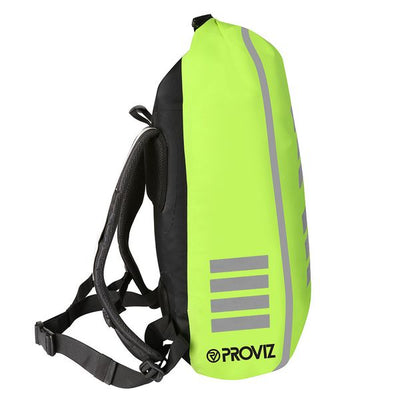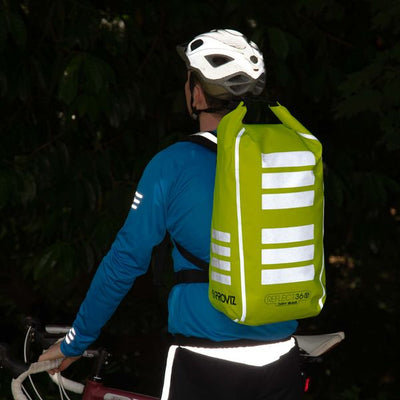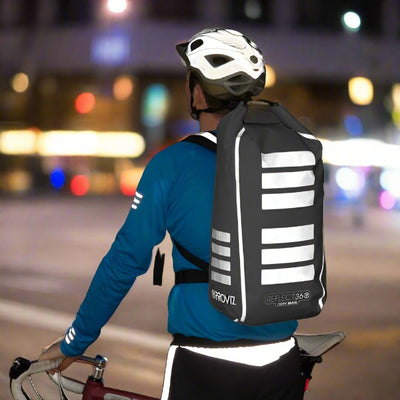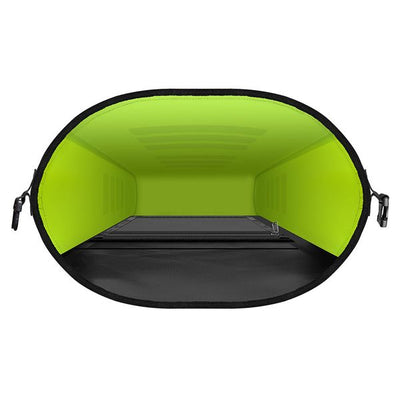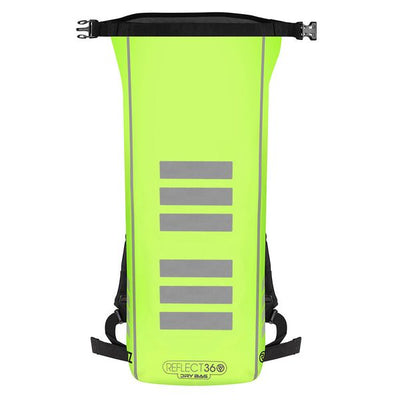 REFLECT360
Reflective Waterproof Dry Bag 28L Backpack
Free Delivery on all orders over $75.00

Extra 10% off - Use Code: EXTRA10
Shop All Flash Sale
Roll-top, 100% Waterproof backpack - IPX8 class waterproofing
Size (loaded and top rolled down): Height: 51cm, Width: 30cm, Depth: 20cm
Capacity: 28 litres
High frequency welded construction to keep out all water and dirt
Roll-top and clip-closure – fast access and easy loading
Inside zipped pocket measuring 22 x 29cm for your phone, wallet, keys, tablet

REFLECT360 – Retro reflective material situated on the front straps / side / back to give 360 degree night time reflectivity
High visibility PVC for day time visibility
Adjustable and quick release chest and waist straps for extra stability
Top carry handle
Made from highly durable 500D PVC material
IPX8 Waterproofing (fully submersible when top closure is rolled 3 times)
We offer free delivery within the UK on all orders over £75.
Find out more on our delivery page. Worldwide shipping is also available.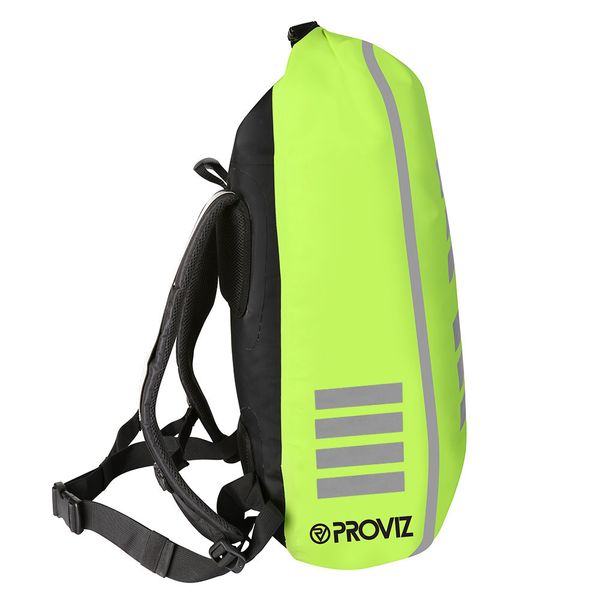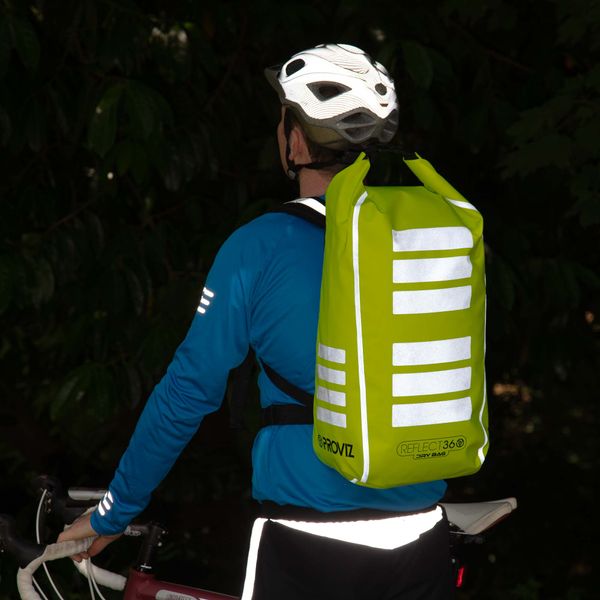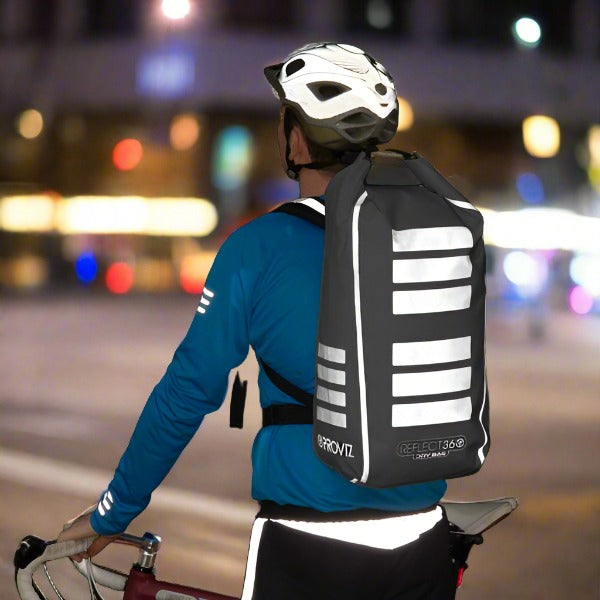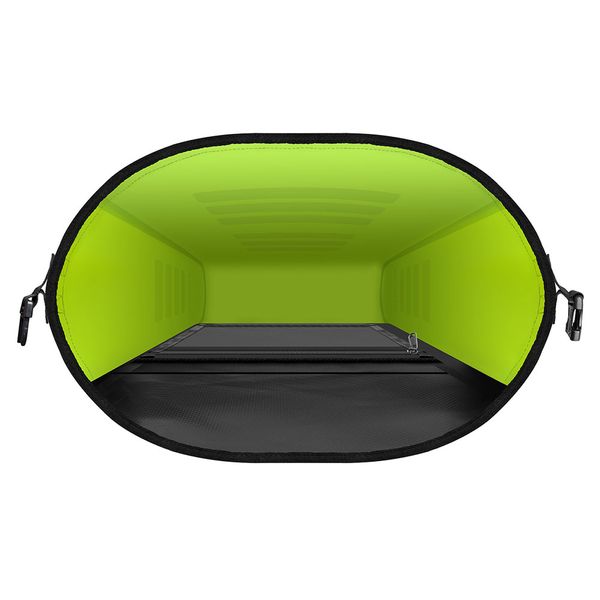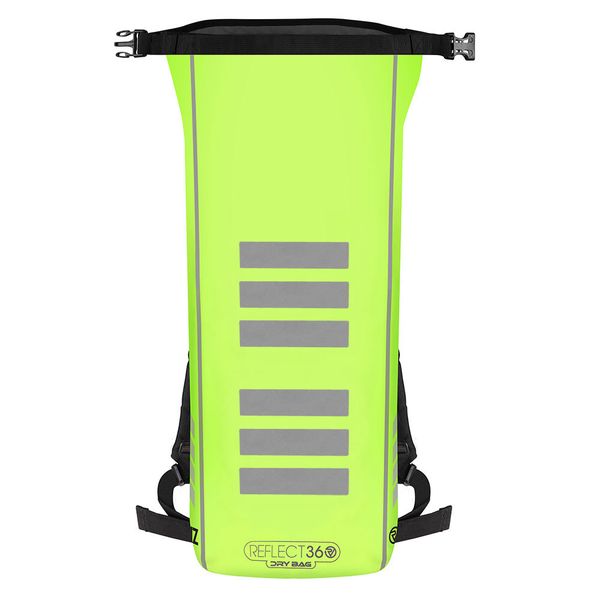 FEATURED IN
Totally waterproof and reflective this pack means your stuff arrives dry even if you dont!
the Top Ten Cycling Backpacks
This will keep your kit dry however bad conditions get.
Our waterproof REFLECT60 Dry Bag won't let in a single drop of water. Thanks to its high-frequency welded construction, all bag components seal completely. You can even throw it in a lake and nothing will get in (that's presuming you've done it up correctly!). Perfect for the harshest weather conditions, it's designed to be used for everyday activities including cycling, running, hiking, kayaking and paddle boarding: any activity, in fact, where you need to keep your gear clean and dry. Our Dry Bag is the newest addition to our best-selling REFLECT360 range. We have strategically positioned our unique retro-reflective material on the back, sides AND shoulder straps, giving 360-degree visibility. If you're out at night or early in the morning, light from approaching vehicles reflects brilliantly so you'll be seen from a greater distance giving drivers more time to react. Our Dry Bag has a capacity of 28 litres and is made from lightweight, highly durable 500D PVC. It includes comfortable padded shoulder straps with a breathable mesh-lining, plus waist and chest straps for stability and support. There's a sturdy top carrier handle, too, and an internal zipped pocket (22 x 29cm) that's perfect for storing your phone, wallet, keys and tablet so they're easily accessible on the move.
Why we love our
REFLECT360 Dry Bag Backpack
Waterproof Material
100% waterproof 500D PVC with high frequency welded seams to ensure nothing gets in.
Grab Handle
The handy grab handle makes this rucksack easy to carry when it's not on your back. Perfect for when you are hot-footing it out of the door ready for your cycle commute or weekend leisure ride.
Secure-Clip Closure
The REFLECT360 Dry Bag incorporates a roll-top and clip closure to give you a secure closure along with super quick access when required
Retro-Reflective
Strategically placed retro-reflective material gives 360 degree reflectivity during hours of darkness or poor light conditions
Waist and Chest Straps
Your backpack will remain secure to your body using the quick release waist and chest strap. You'll feel like your backpack is part of you!
Inside Zip Pocket
Keep your valuables safe, secure and within easy reach should you need them. Measure 22 x 29cm.
tag us on instagram #MYPROVIZ
Other customers also like