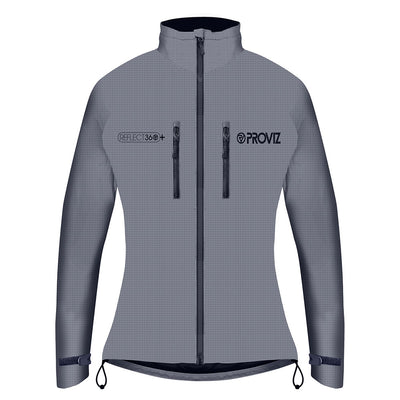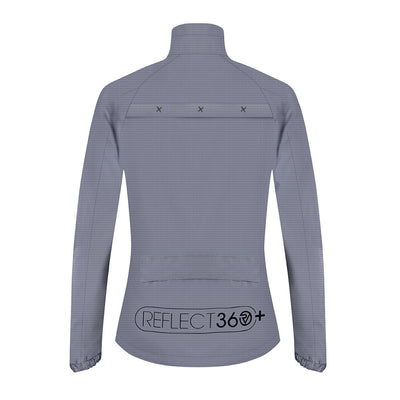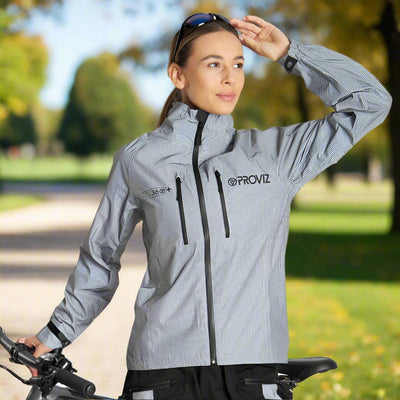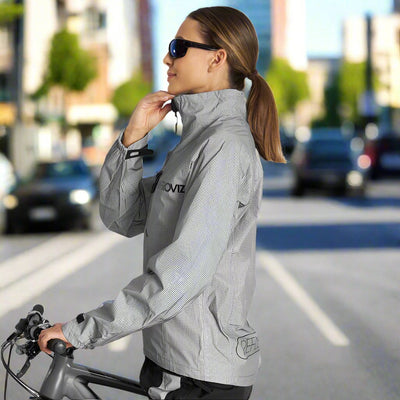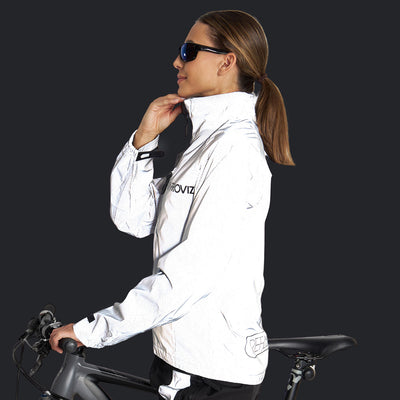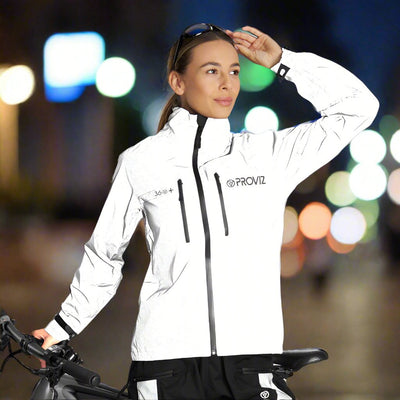 REFLECT360 Plus
Women's Fully Reflective Enhanced Waterproof Cycling Jacket
Free Delivery on all orders over $75.00

Extra 10% off - Use Code: EXTRA10
Shop All Flash Sale
Highest Visibility Levels: 100% reflective material (CE EN 20471)
Tailored Fit for Comfort
Breathable (10,000+gm/24hr)
Waterproof (10,000mm, Seam-sealed)
Ultra-Lightweight at 400g
Fleece-Lined Collar for Warmth
Raglan Sleeves for Mobility
Inside Chest & Back Pockets
Low Profile Rear Spray Guard
Mesh Lining for Comfort
Repreve inner lining made from Recycled Waterbottles
Built-in Air Vents (Front/Sides/Back)
Adjustable Waistband & Cuffs
Weatherproof Zippers with Garage
Machine Washable
User-Friendly Zip Pulls
We offer free delivery within the UK on all orders over £75.
Find out more on our delivery page. Worldwide shipping is also available.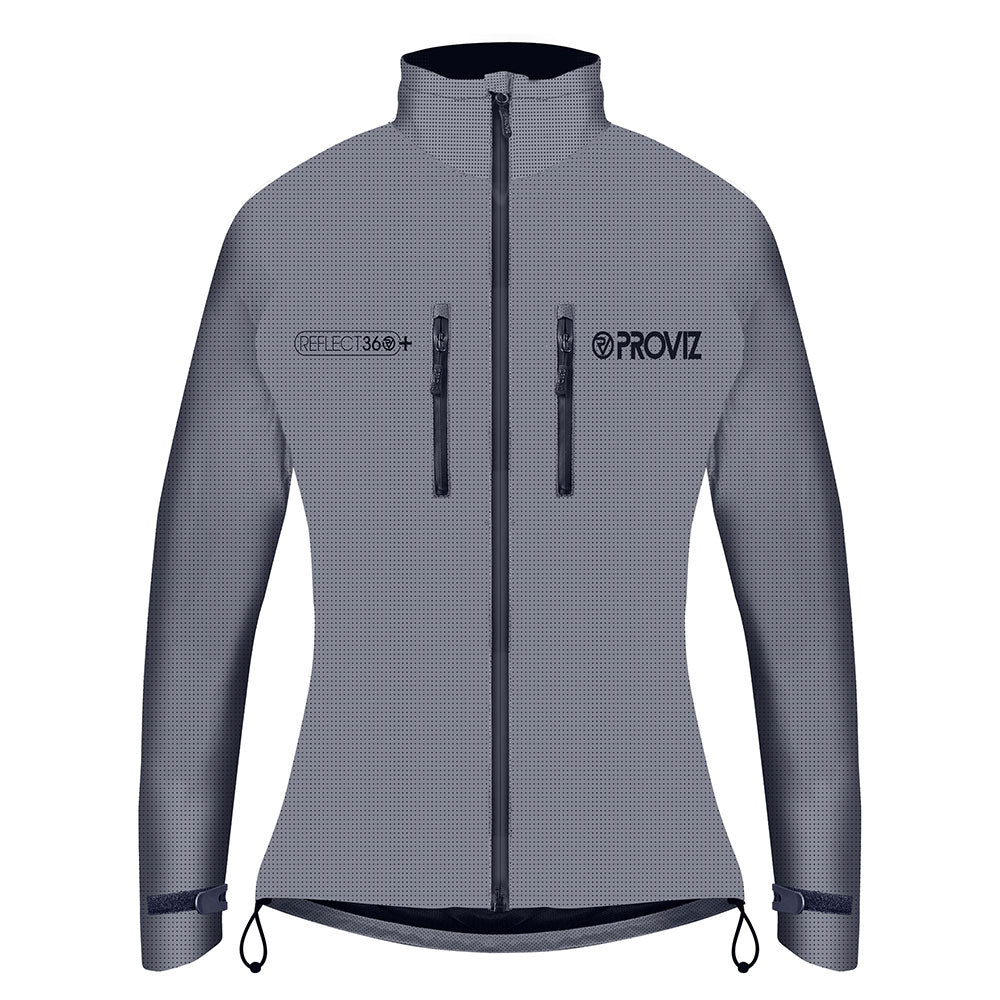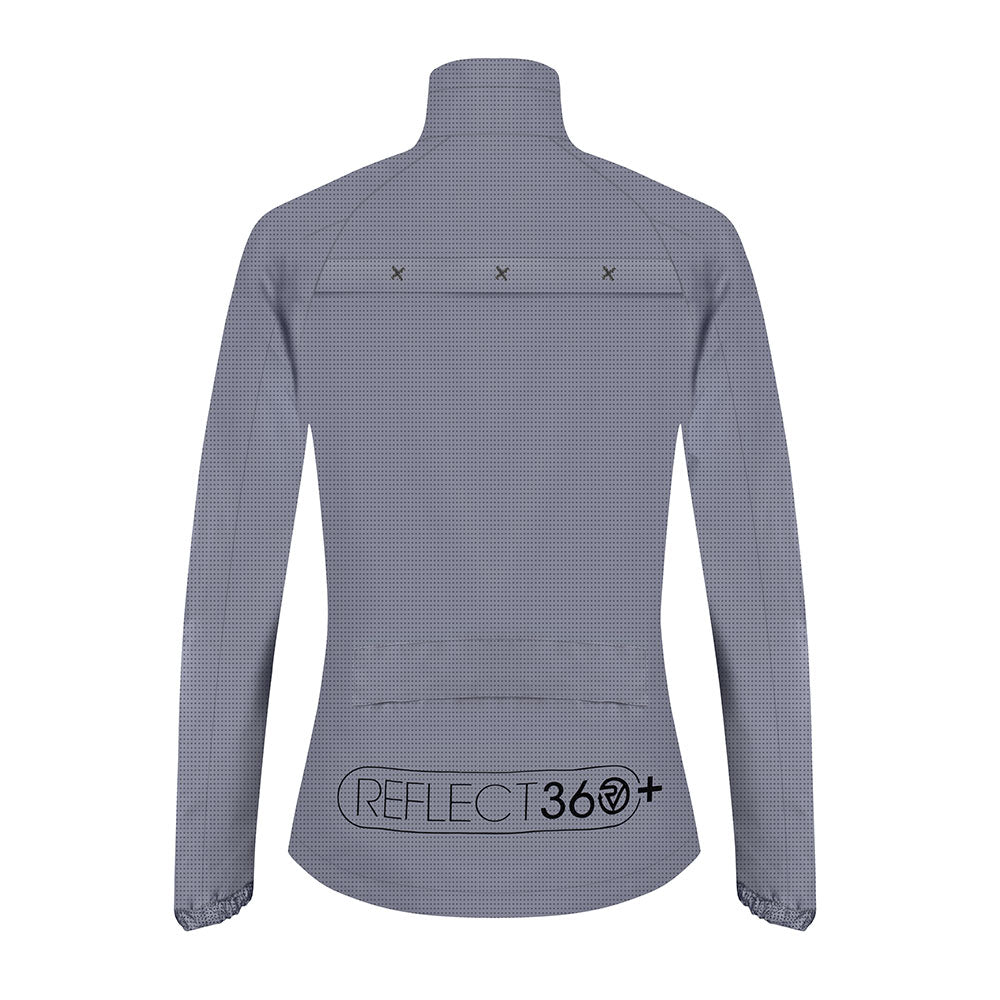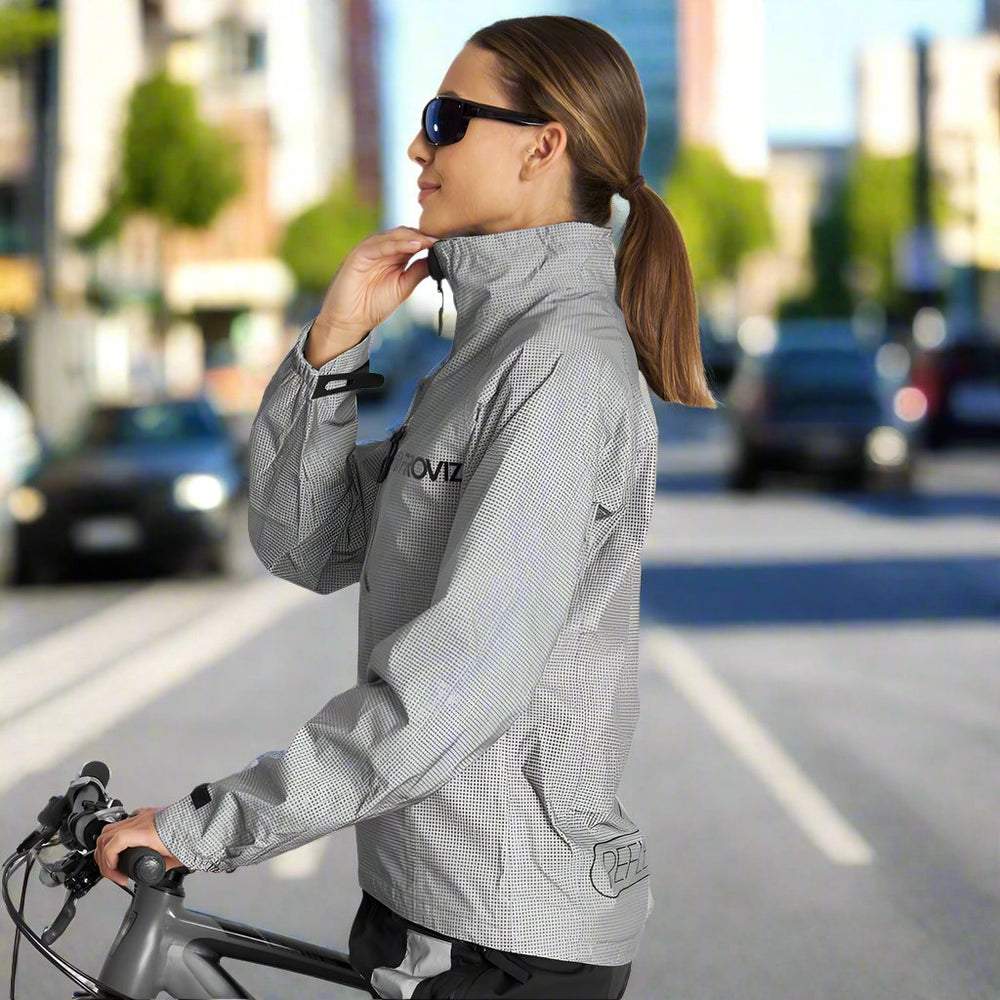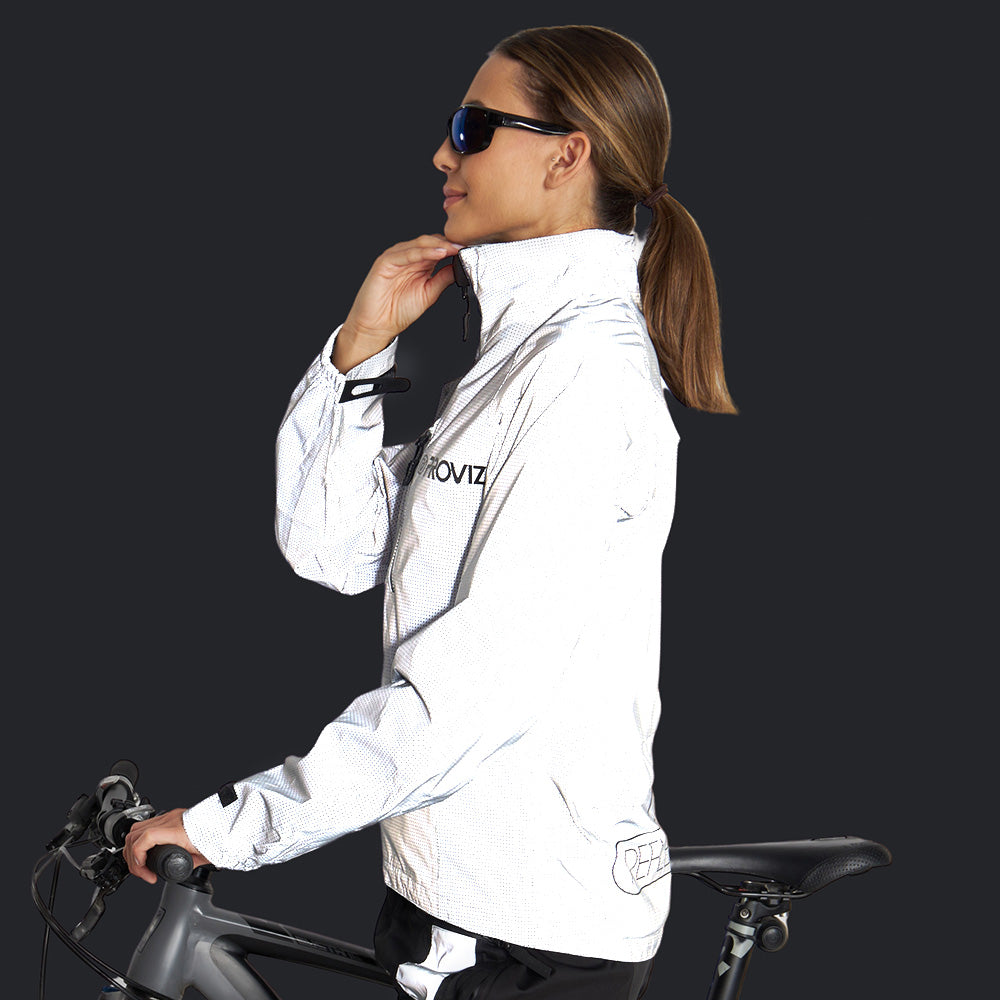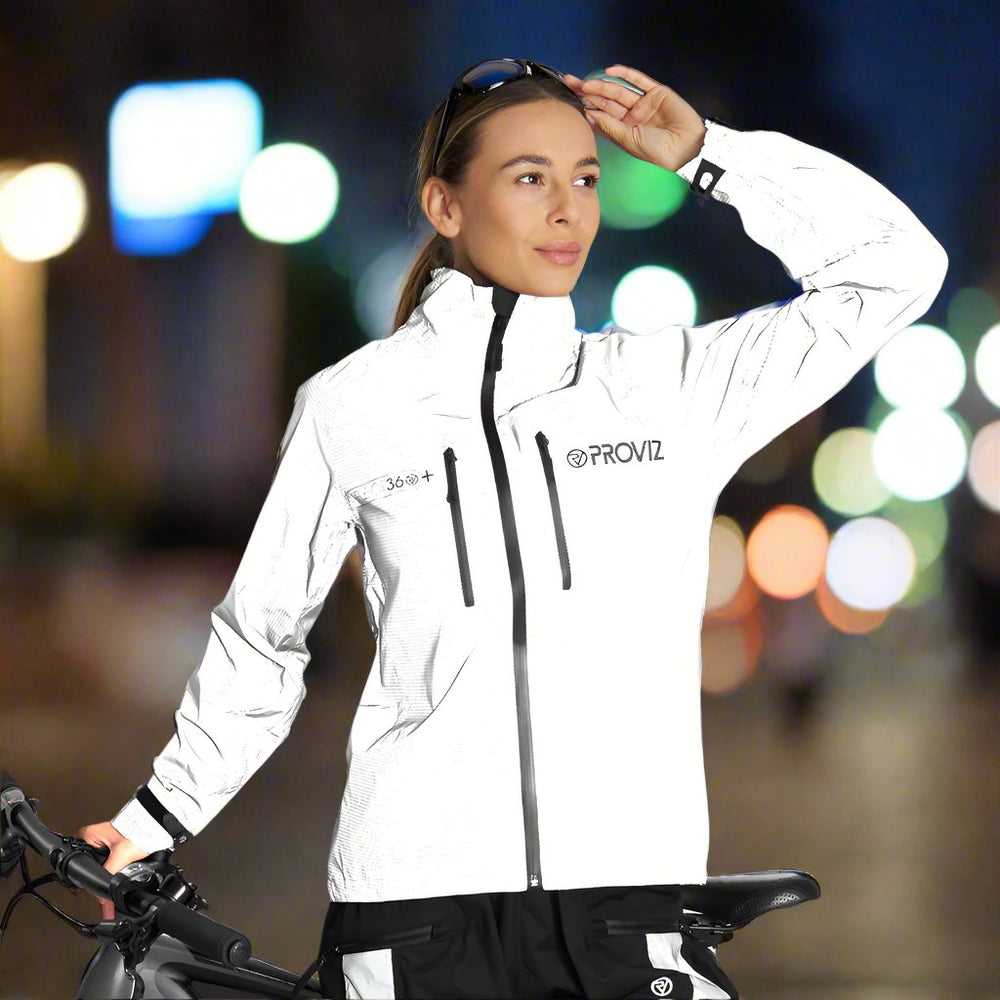 FEATURED IN
Nothing short of spectacular and Featured as BEST BUY in Indy Best Reflective Cycling Jackets
The film fabric can achieve optimal breathabilty and waterproofing but is also a reflection innovation.
During the day it is a rather chic grey garment while at night it transforms itself into a flashing disco jacket. Its the rarest of things - a super visible jacket that doesnt make you stand out like a sore thumb.
The Proviz Reflect360 Plus Mens Cycling Jacket boasts unrivalled visibility on night rides. It comes with smart design features and technical performance that make it the perfect jacket for commuting in winter months.
This waterproof jacket is made from a unique material that is grey in the day but comes to life at night reflecting the light from vehicles to turn you into the most visible thing on the road. It has to be seen to be believed.
Solve visibility challenges while cycling with the Proviz REFLECT360 Plus Cycling Jacket. Its highly technical design ensures unmatched breathability (10,000gm/24hr) and waterproofing (10,000mm) without compromising the remarkable reflective capability of our upgraded material (CE EN 20471 certified), which gained global recognition and sales in over 40 countries.
Stay cool during intense rides with the tailored fit and lightweight material. Shoulder/back vents offer 'through-flow' ventilation, keeping you comfortable by expelling air without letting in rainwater. Open the front zip vents for maximum ventilation, and during winter, use them as watertight pockets.
Carry essentials with ease using the inside chest pocket and large lower back pocket. Experience improved range of motion and flexibility with the newly incorporated raglan sleeve design.
The fabric features millions of tiny reflective beads that reflect light back to the source, making you visible to drivers well in advance.
Designed by Proviz, this highly technical material combines breathability and waterproofing through a brand film fabric sealed to our special reflective material.
It appears modest grey during daylight but boasts astonishing reflectivity at night when exposed to external light sources like vehicle headlights. CE EN 20471 certified for your safety and peace of mind.
At only 400g, it is an astounding 100g lighter than it's predecessor and is also 5,000mm more waterproof!
Why we love our
REFLECT360 Plus Cycling Jacket
The Material
Utilising millions of tiny, highly reflective glass beads, the innovative material used for the REFLECT360 Plus Cycling Jacket is highly breathable (10,000gm/24hr) and exceptionally waterproof (10,000mm). The inner seams of the jacket are taped too, to prevent water getting in at sewing lines.
The Lining
The REFLECT360 Plus Cycling Jacket has a soft cotton mesh lining which acts as a climate control mechanism. The mesh increases airflow by maintaining separation between your skin/shirt and the outer layer of the jacket. This allows your body to maintain a more consistent comfort level, without the need to constantly add or remove layers.
Pockets
The REFLECT360 Plus Cycling Jacket incorporates two outer chest pockets, one insdie chest pocket and one large back pocket, so you will not struggle to find somewhere to put the items you need for your ride. The outer chest pockets also double as additional vents to help cool you down on warm days.
Cuff
This innovative jacket features hard wearing cuffs with hook and loop attachments. These can be easily adjusted by the wearer to suit their size and specific requirements. Keep them loose during the spring/summer to facilitate airflow, or tighten them up to keep out cold, wintry weather.
Adjustable Waist
As with all Proviz kit, our focus is to keep you safe on the road, but we never feel that this should come at the expense of performance or comfort. Use the elastic pull cord and plastic fasterner to fit the REFLECT360 Plus Cycling Jacket to your body shape.
Under Arm Ventilation
Perfect for warmer days and intensive road training sessions where you are sure to work up a sweat, the REFLECT360 Plus Cycling Jacket features 30cm zips under each arm which can be opened to increase air flow and cool you down.
Shoulder/Back Ventilation
Every cyclist gets hot across the shoulders/upper back, even on cold winter days. To combat any discomfort caused by this, we've built in an extra ventilation flap in the back of our REFLECT360 Plus Cycling Jacket which will let hot air out but won't let any inclement weather in.
Zip Garage
Another feature expressly included to keep you comfortable in the REFLECT360 Plus Cycling Jacket on cold days is the zip garage, which helps to protect against neck chafing when your jacket is fully zipped up.
Waterproof Zip and pulls
It's a simple little feature that really makes a difference! The full length storm zip on the front of the REFLECT360 Plus Cycling Jacket is fully waterproof and reflective. Not a drop of water will get in. Handy zip pulls come as standard to help on those cold days when gloves are needed.
Micro-Fleece Collar
Staying safe on your bike during the dull days and long, dark winter evenings should not have to mean a compromise on comfort. Our REFLECT360 Plus Cycling Jacket features a micro-fleece lined collar for extra warmth and comfort during colder months.
tag us on instagram #MYPROVIZ
Other customers also like